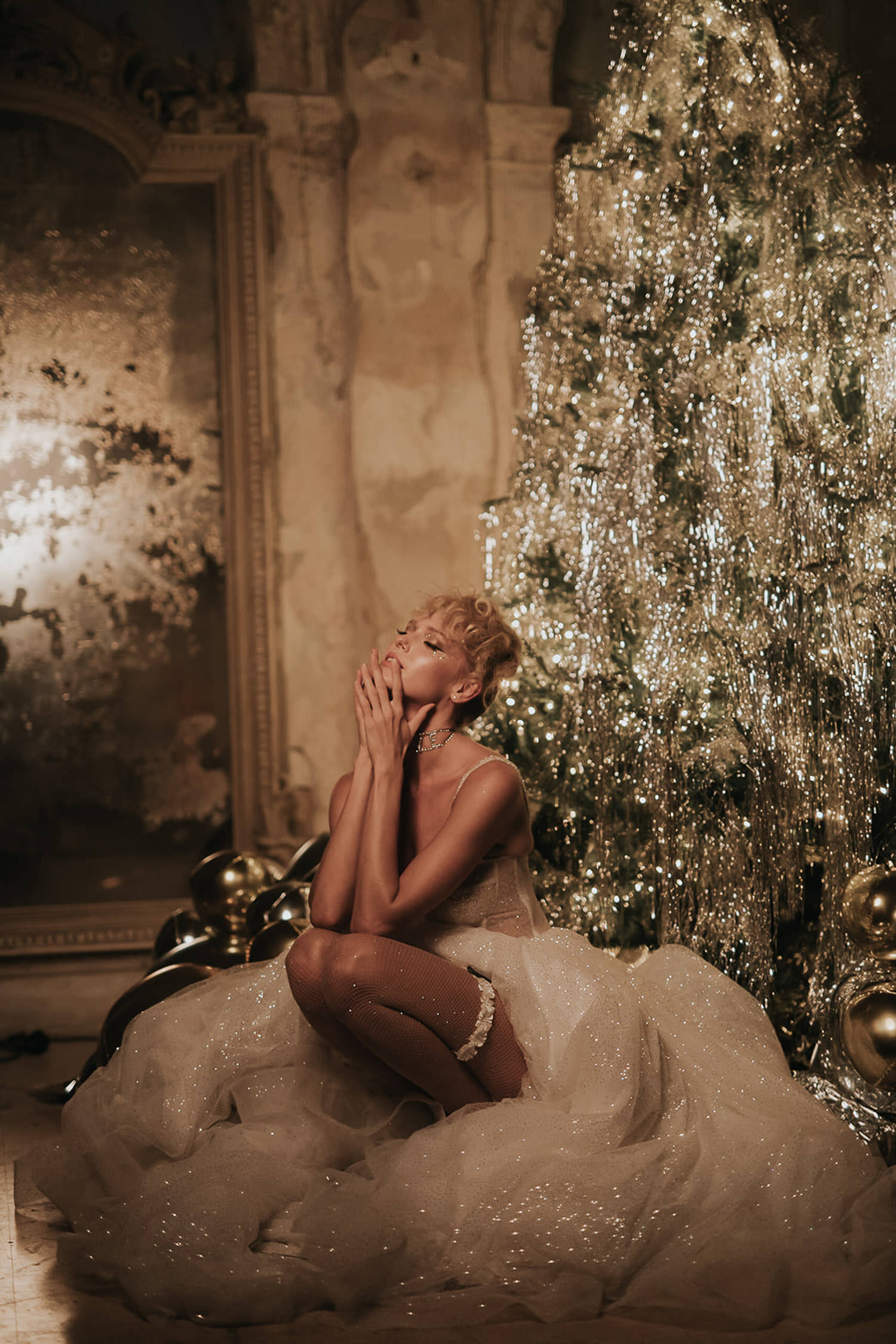 We're officially feeling festive at Kiss from Fleur HQ and what better way to spread the Christmas cheer than with a seasonal-inspired blog post?!
For couples who are smitten with the thought of saying, 'I Do' in December, we're bringing you some of our favourite festive ideas and seasonal styling inspiration so that you can incorporate them into your Christmas wedding.
We're bidding farewell to tradition and instead, we're embracing plenty of tasteful touches that you (and Santa) will love…
Set the scene for your Christmas wedding with a sparkling aisle style! Opt for a wedding dress adorned with sequins or glittering embellishments for the ultimate bridal look – you can go all out with your accessories, jewellery and shoes too! From a long, ball-style gown or a short cocktail gown featuring feathers and crystals, you will look stunning as you make your way down the staircase to your ceremony.
This is one outfit that is guaranteed to turn heads! Look no further than a glittering gown from a luxurious brand such as Berta Bridal or Milla Nova and remind your hubby-to-be why he can't resist marrying you... You're the queen of Christmas and Santa is waiting at the end of the aisle for you...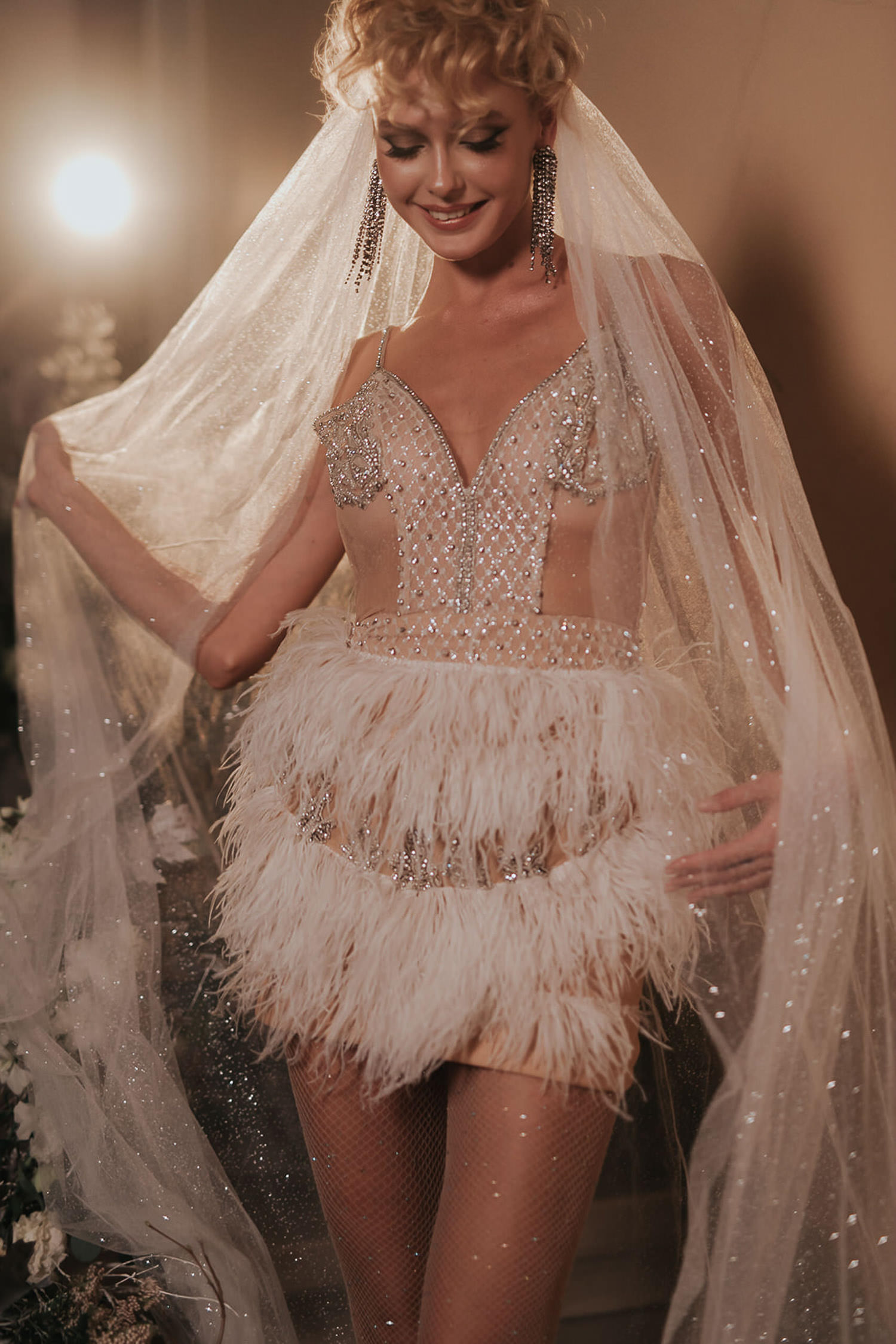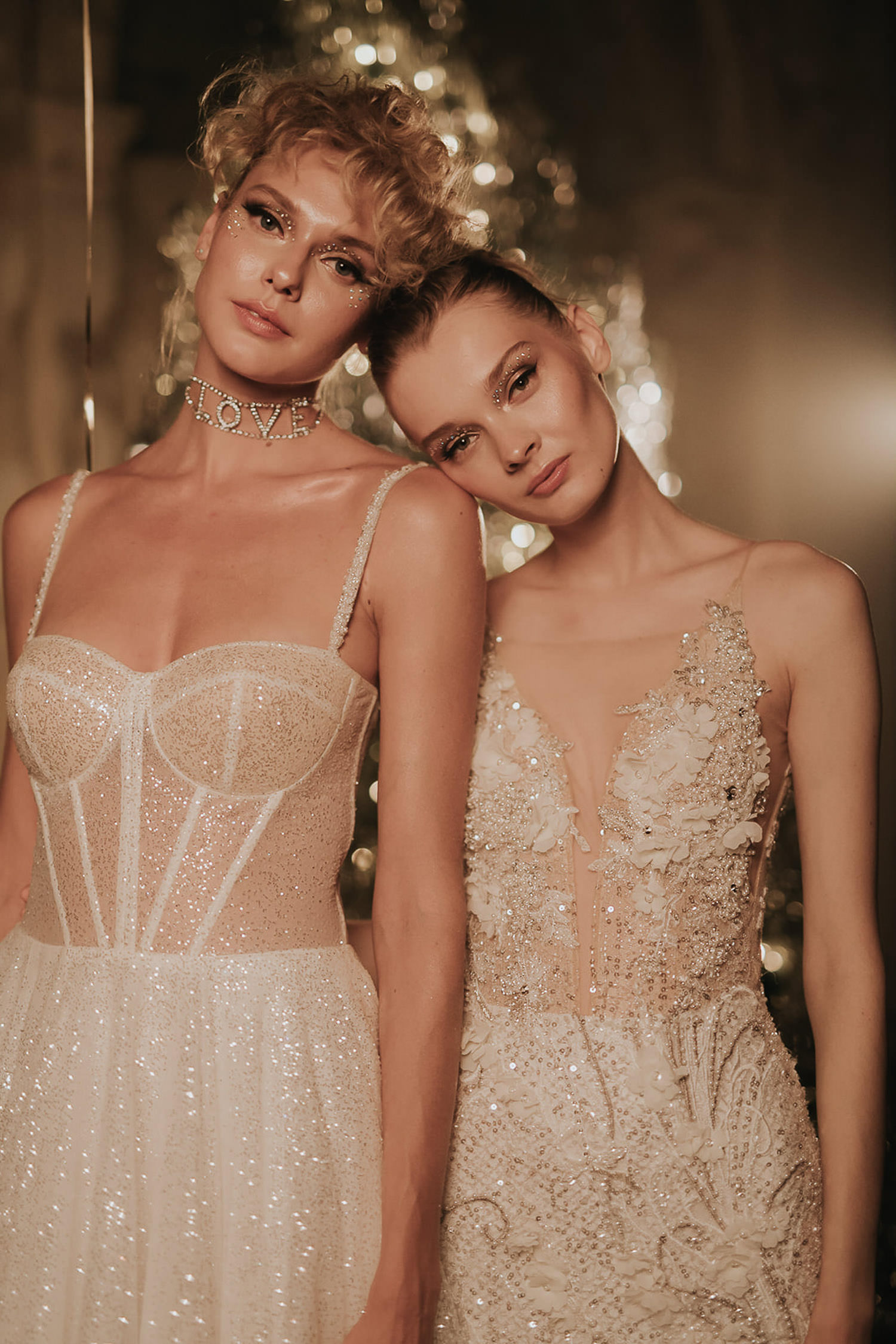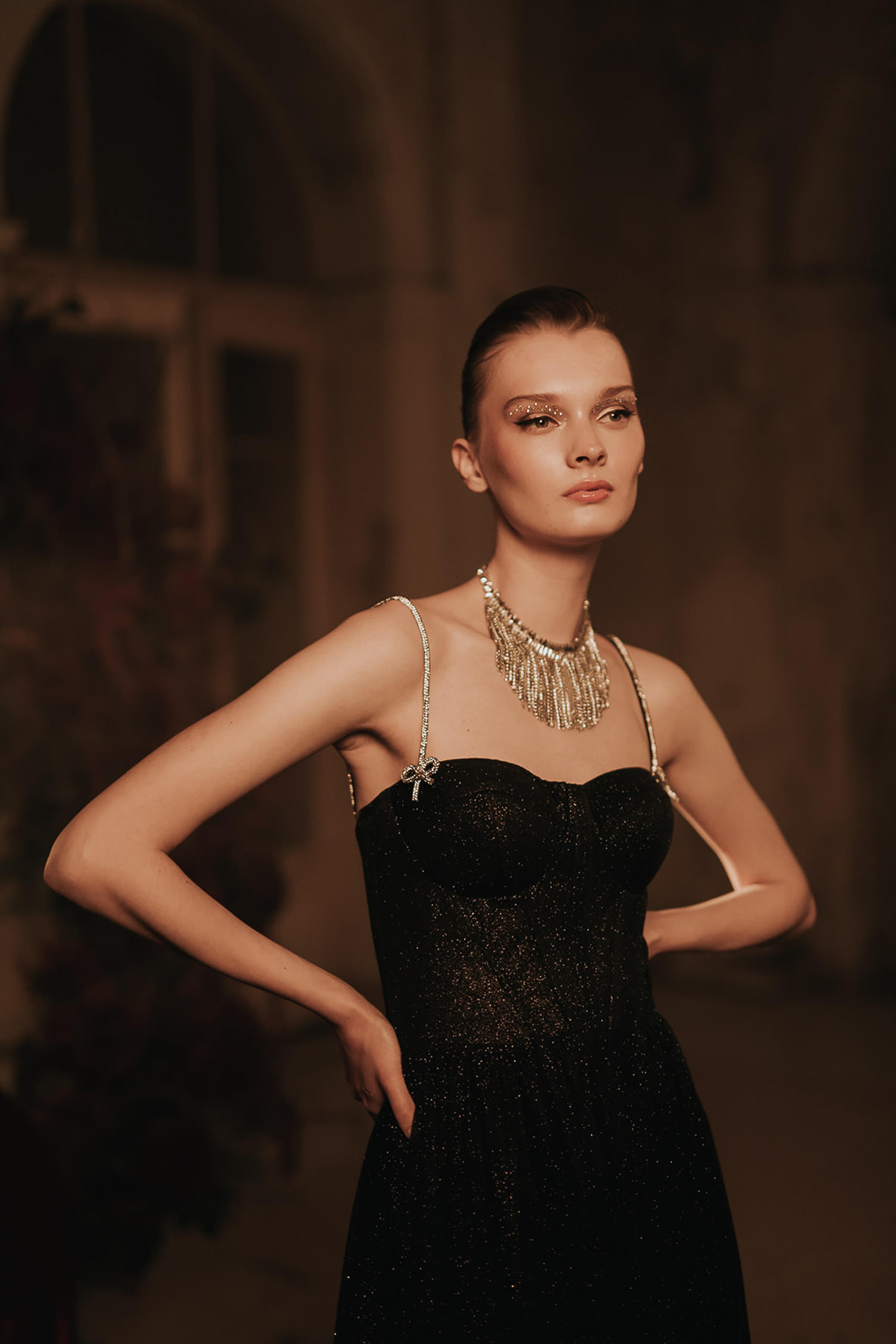 There's no doubt about it – the festive season is all about food and drink so make sure it makes an appearance throughout your Christmas wedding too.
From traditional mince pies as wedding favours to a decadent dessert table laden with seasonal treats to spoil your guests. We adore the idea of serving classic panettone layered with glittering cherries that will melt in your mouth.
Serve up Christmas-inspired delicacies for your guests to tuck into, including mugs of mulled wine, premium hot chocolate with cream and marshmallows or of course – Christmas wedding cake!
Nothing is more irresistible than serving traditional Christmas cakes and delicacy but that doesn't mean the way you display them can't be modern and Instagram-worthy.
We love the thought of a dessert table that looks as if it has been taken straight from a page of Martha Stewart – the juxtaposition of classic foodie treats teamed with modern décor will be truly mouth-watering and no-one will be able to resist tucking in.
A simple table layered with a raw-edged linen tablecloth will set the scene, while a foliage and flower installation will add the wow-factor. The options really are endless, and your loved ones will hugely enjoy their festive feast... yummy!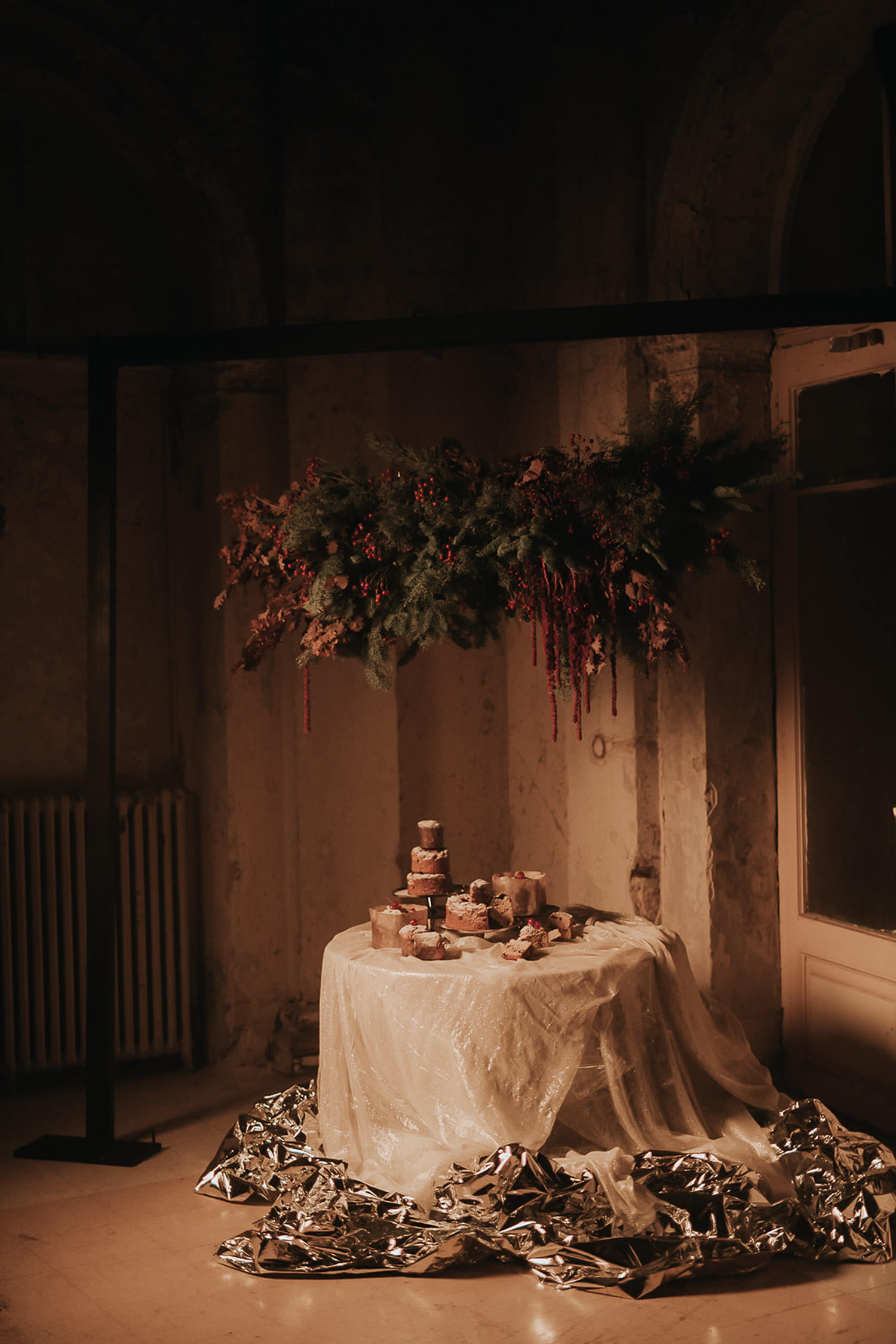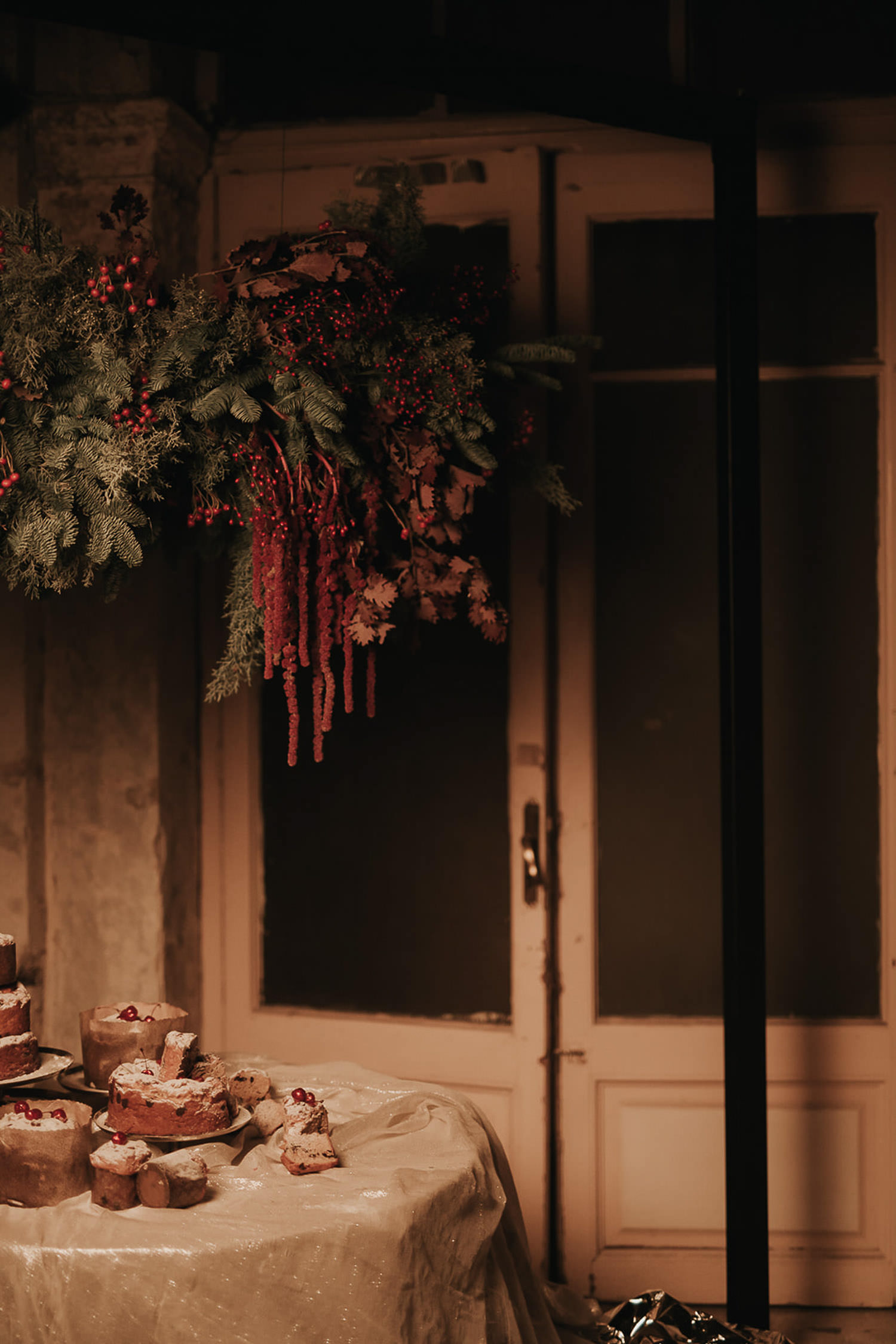 Make a serious statement at your Christmas wedding ceremony by using a spectacular backdrop where you can exchange your vows. We adore the thought of decorating your ceremony space (whether that's an industrial loft, traditional church setting or grand house) with a giant wreath that adds a huge dose of drama to your ceremony. Make 'oversized' look too small, where it is brimming with greenery, plush red blooms and a massive velvet red bow for an extra dash of luxe!
You can even use this throughout the rest of your wedding day, such as a backdrop for your wedding reception or simply as a backdrop for your guests to use for their photographs. Make sure your aisle also aligns with your backdrop – add a festive feel to your ceremony by lining the aisle with foliage, sparkling silver details, expensive chandeliers and thousands of large flickering candles. If you're having a winter wedding, you can also make the most the dusky light that will look beautifully dramatic against the backdrop of your giant wreath – nothing is ever too OTT when it comes to a Christmas wedding!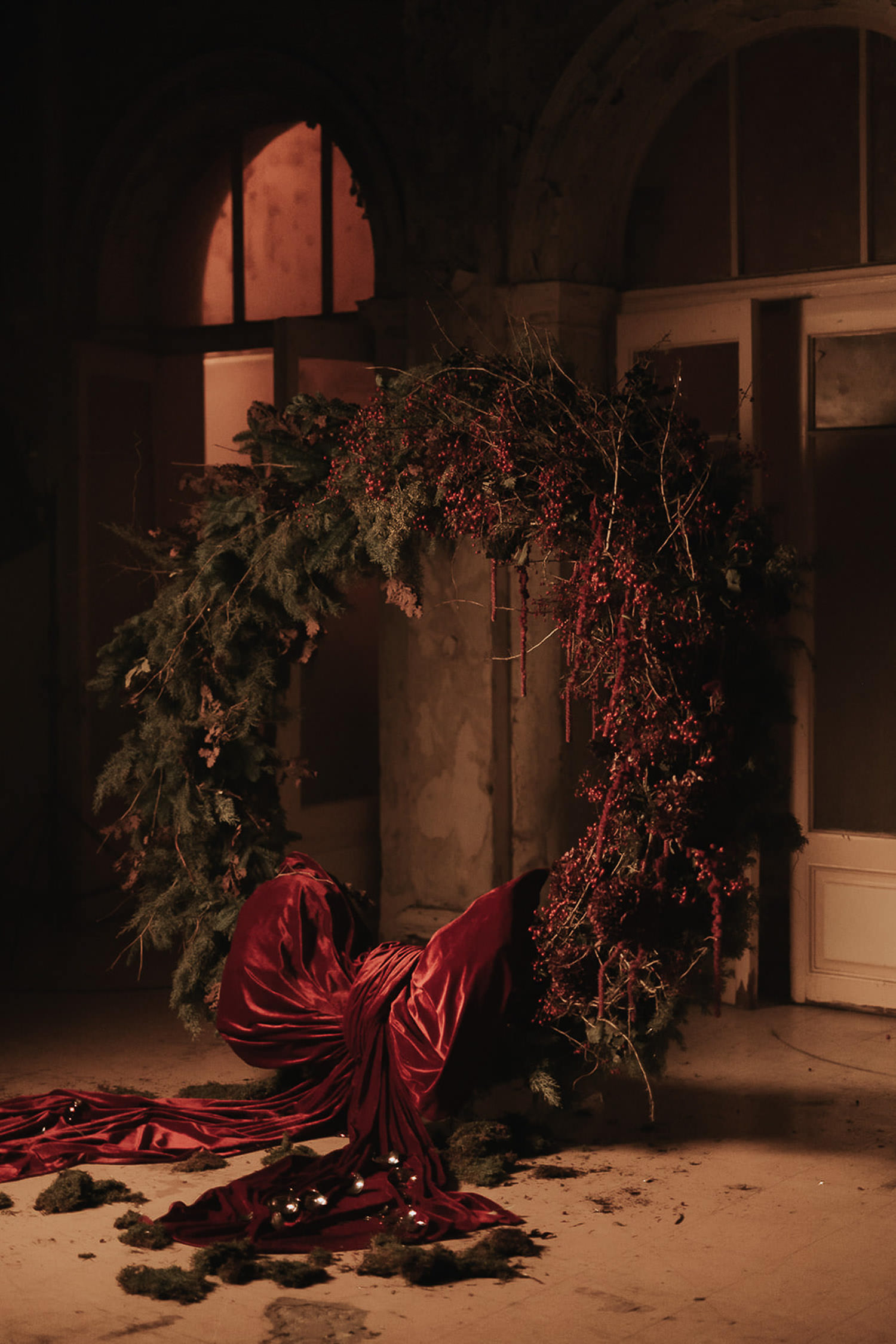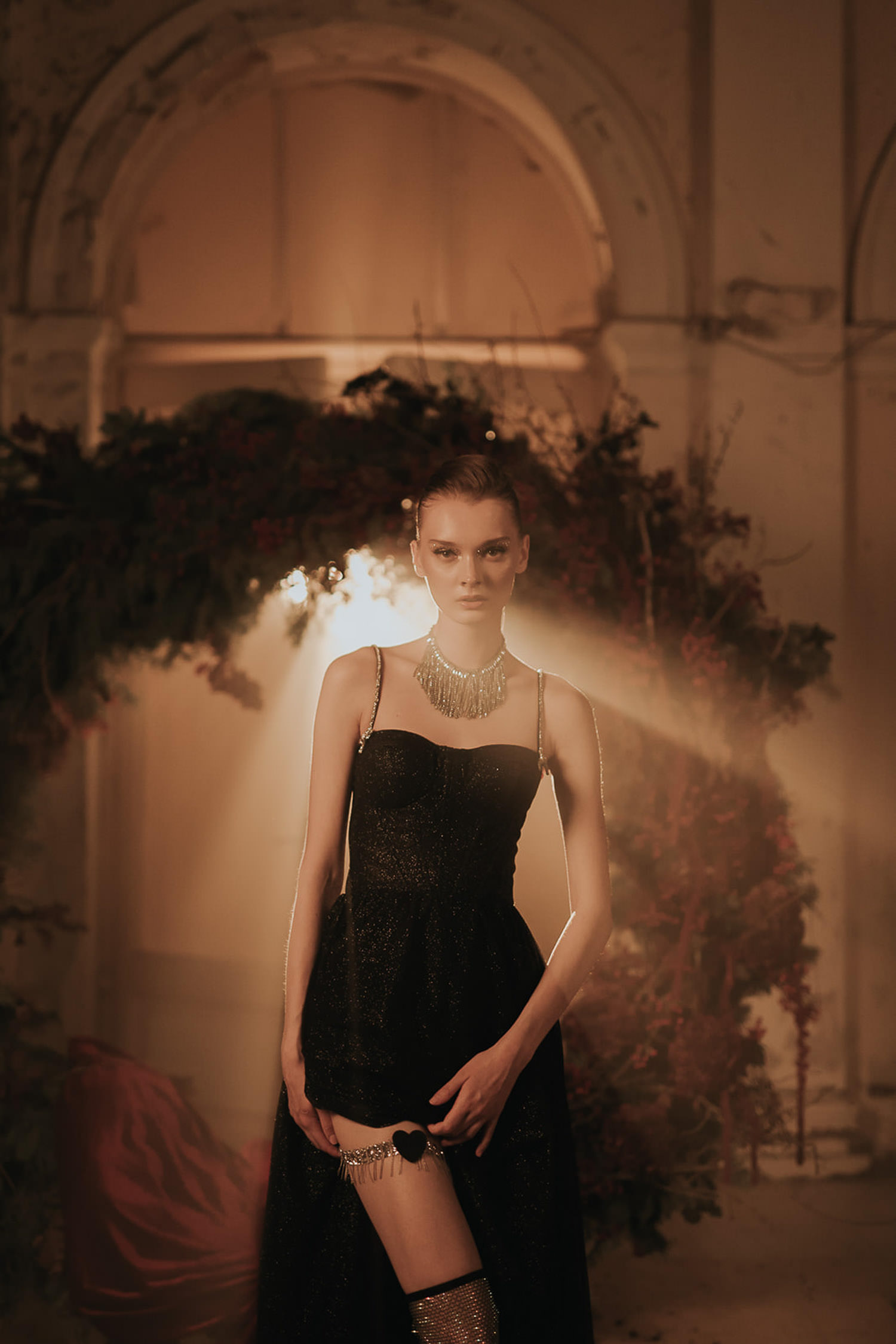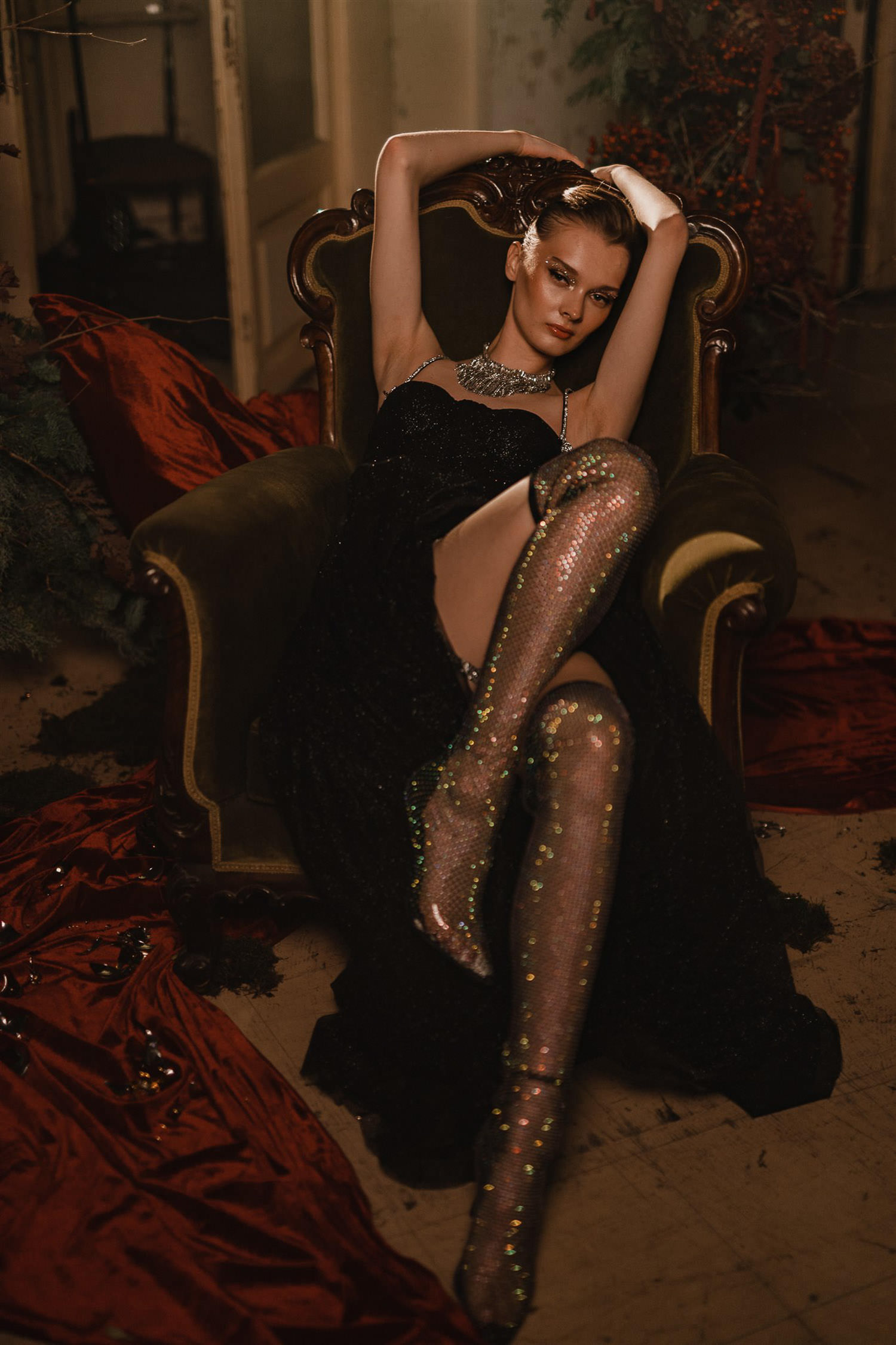 Get your hubby-to-be feeling festive with a pre-Christmas boudoir shoot planned to perfect by Kiss from Fleur, where we can whip up a bespoke boudoir-esque vibe with lingerie that is alluring and luxurious. We'll work with you to put you in a scene that looks like you're part of a high-gloss fashion magazine, while a glam squad and styling team will be busy working behind the scenes so that you are the muse for the day. This is your opportunity to channel those Victoria secret model vibes or feel like you're on the front cover of Vogue, while seducing your husband from a velvet chaise lounge.
We'll design your boudoir shoot from scratch in the signature Kiss from Fleur style so you can celebrate yourself! Indulge in the most luxurious and expensive lingerie, pose like you're part of the burlesque and tell the world that you're getting f*****g married!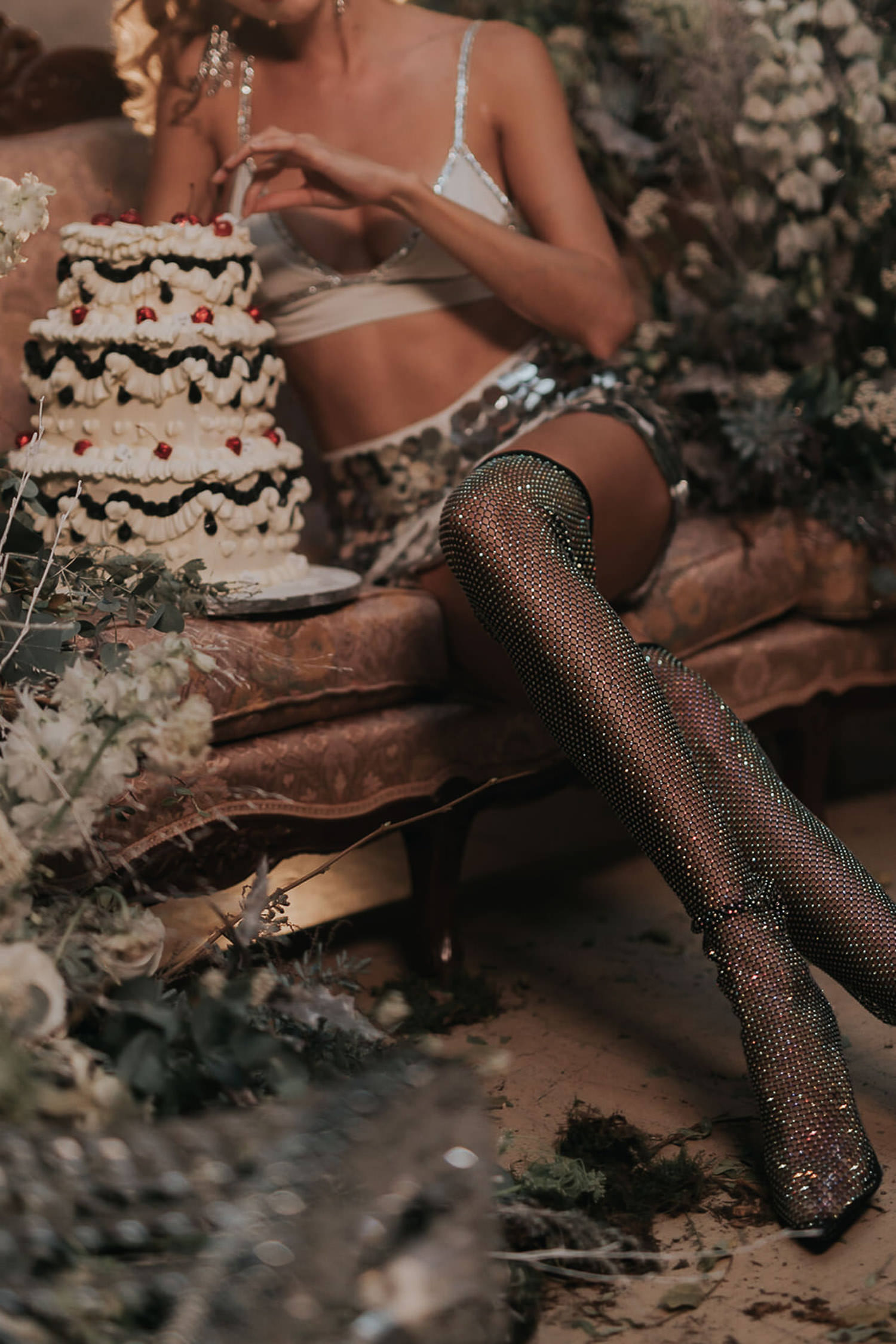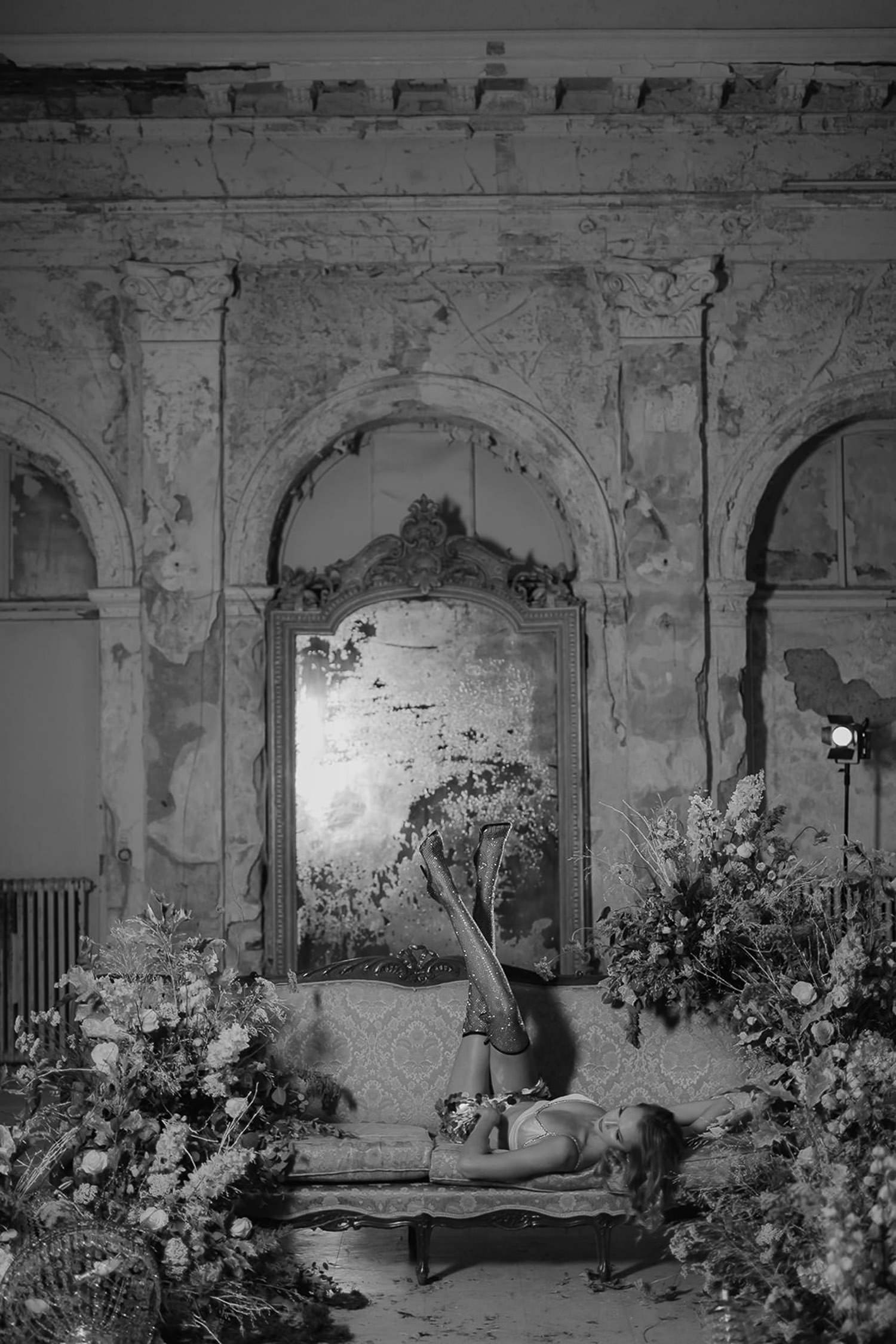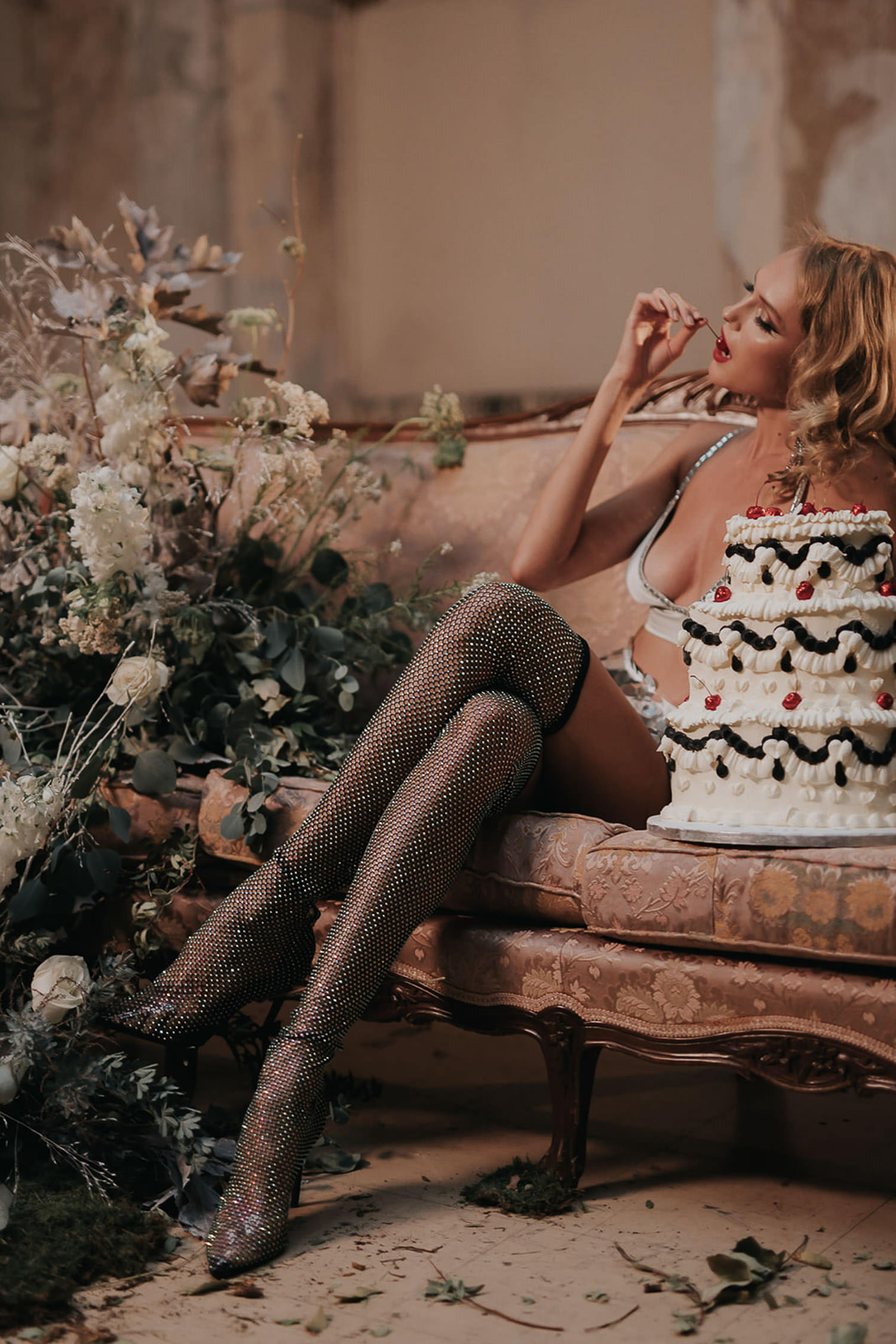 The photographs will be the ultimate gift this season and will build upon the anticipation, excitement and temptation to being a 'Mrs'. And of course, you'll need some mistletoe... As part of our services at Kiss from Fleur, we adore planning and designing a boudoir shoot for our bride to channel those fierce, confidence and glamorous feels! We'll take care of the art direction, as well as offering you guidance on posing and shots. It's time to tease and tantalise your husband-to-be...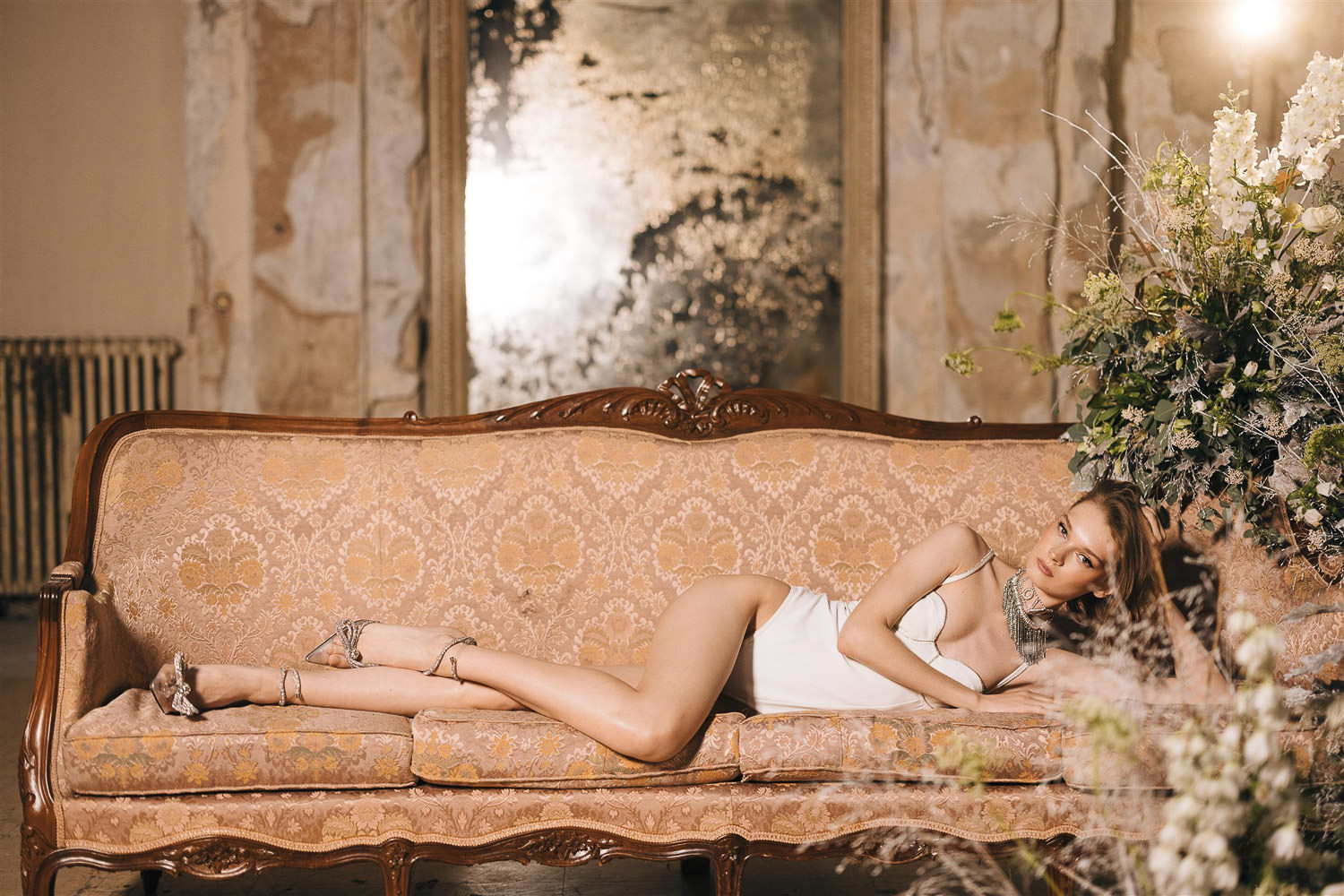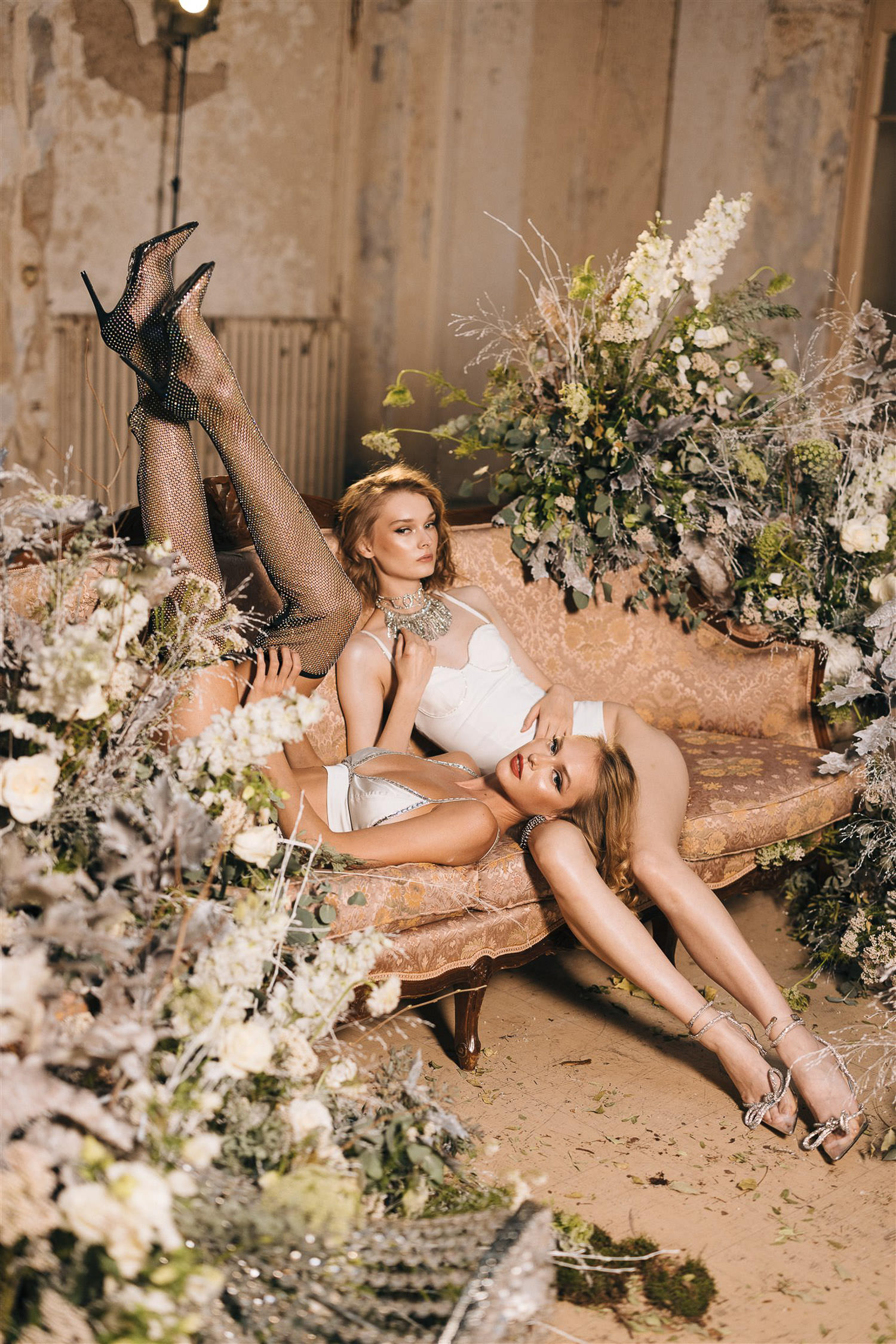 Your Christmas tree should be one of the highlights of your wedding day and it will effortless transform even the simplest blank canvas wedding venue.
Adorn a 6ft (or even bigger) tree for your Christmas wedding, with lashings and lashings of sparkling and overloaded silver lametta, millions of dazzling fairy lights galore and giant orb baubles adorned around the bottom of the tree.
And who says you have to stick to tradition and put the star at the top of the tree... At Kiss from Fleur we're all about making tradition on-trend, which is why we adore the idea of setting the star in a new and seductive scene – your tree can do all the talking.
This is a Christmas tree – but with a mega Kiss from Fleur touch and we are seriously obsessed.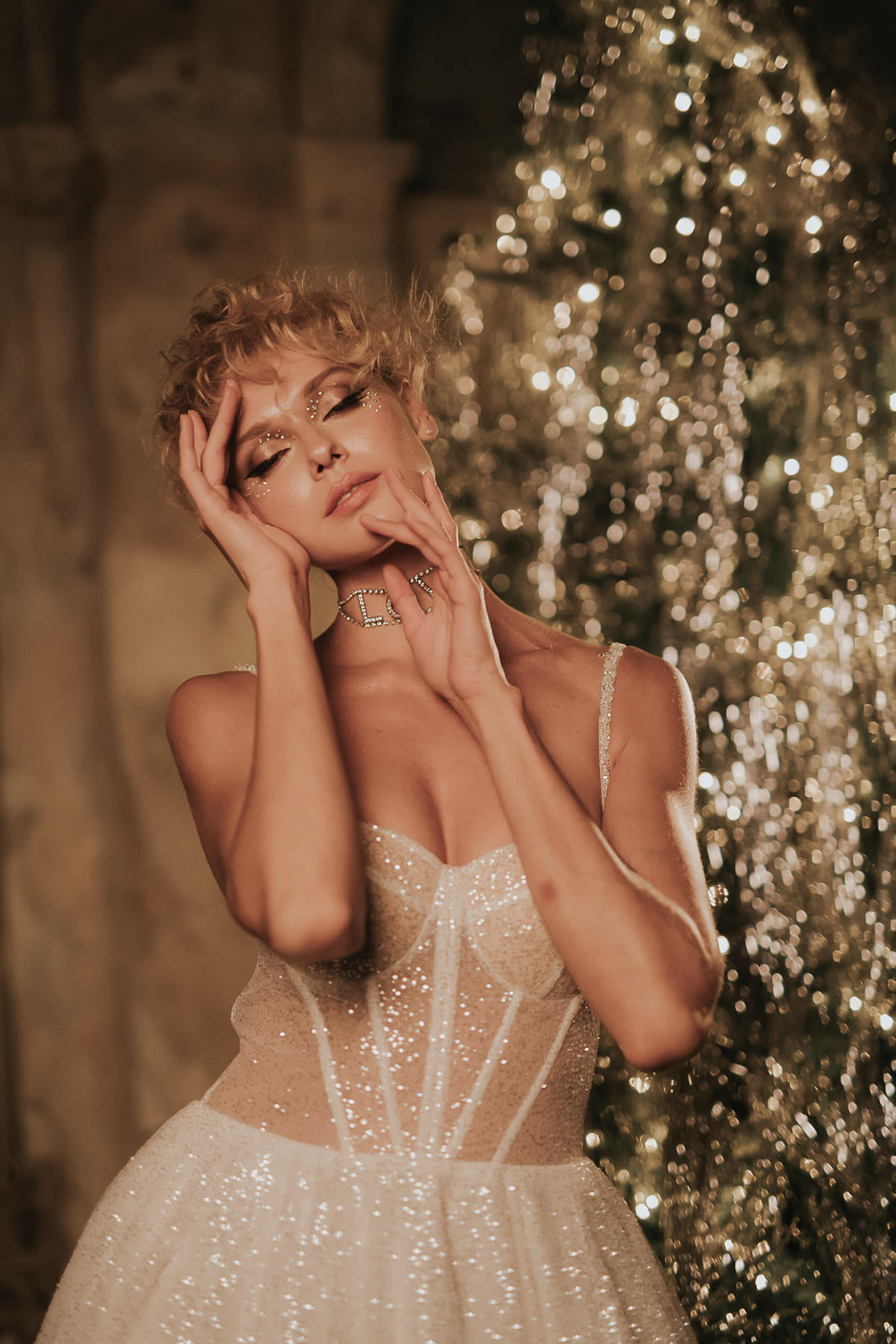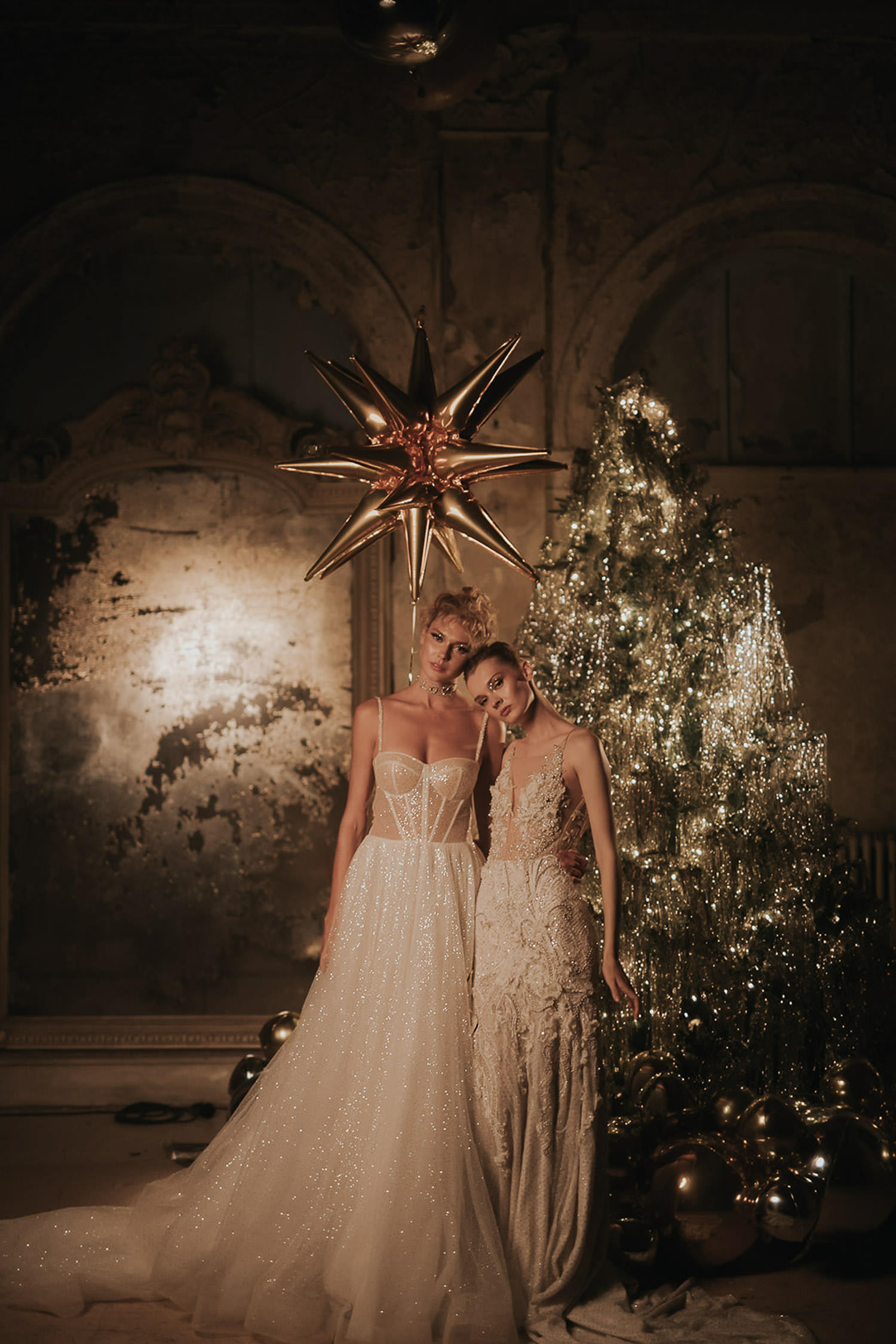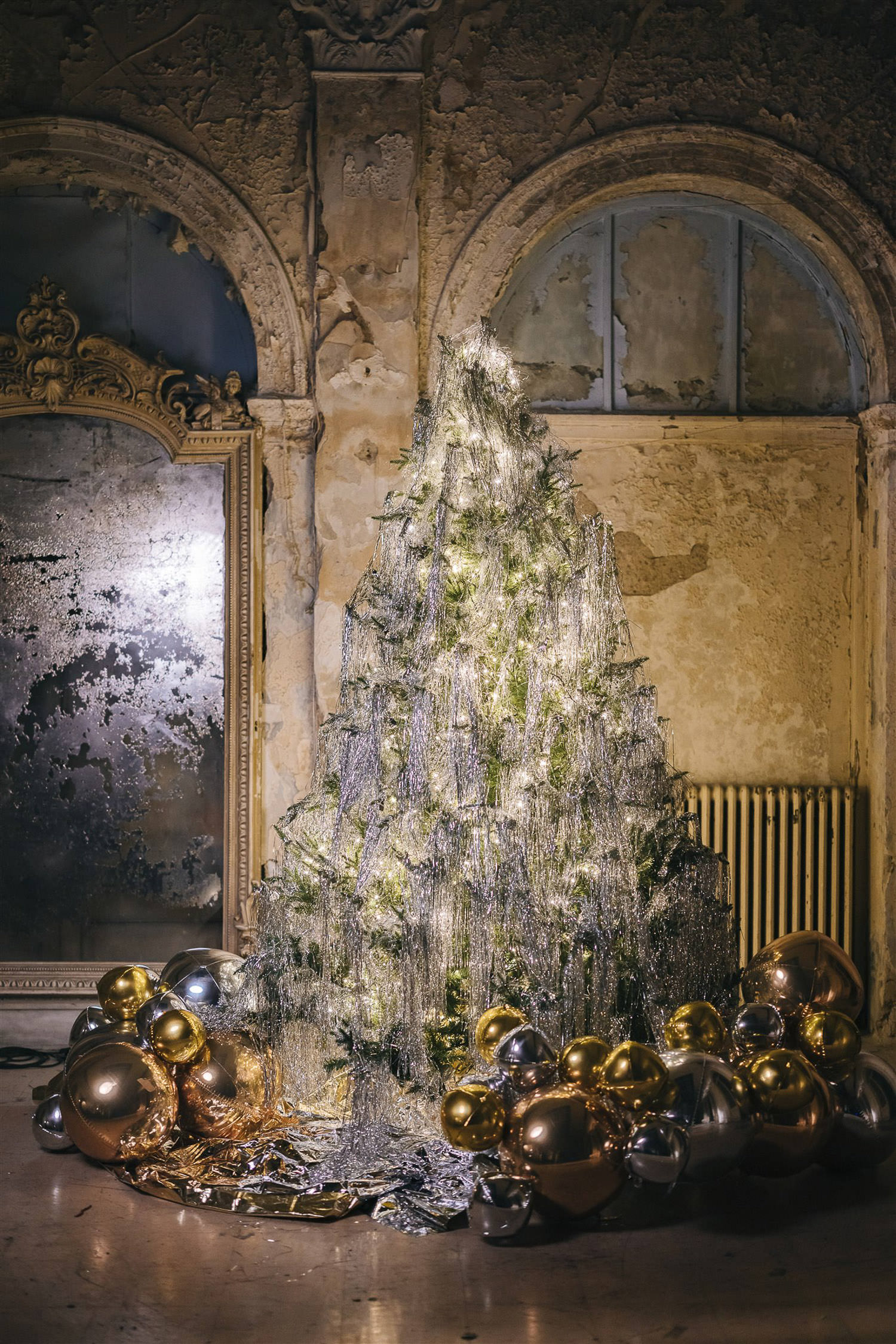 To style an abandoned space, let the beauty of the location remain the focal point with modern decor. Go all out with your Christmas wedding design and create a dramatic tablescape to add impact to your reception space. From gorgeous red detailing and epic florals to chic black monochrome palettes (for chandeliers, cutlery, plates and chairs), there are no rules when it comes to styling your Christmas soirée.
As luxury wedding designers, we think a dining table using an all-black colour scheme with deep red floral arrangements, imperfectly shaped glossy black ceramics, mouthblown glasses in dark edgy colours and modern panton vitra chairs lends itself to the ultimate modern Christmas wedding with a cool and unusual contrast. Work in glowing candles for warmth and ambience, or drape festoon lighting above the tables to add to the lighting.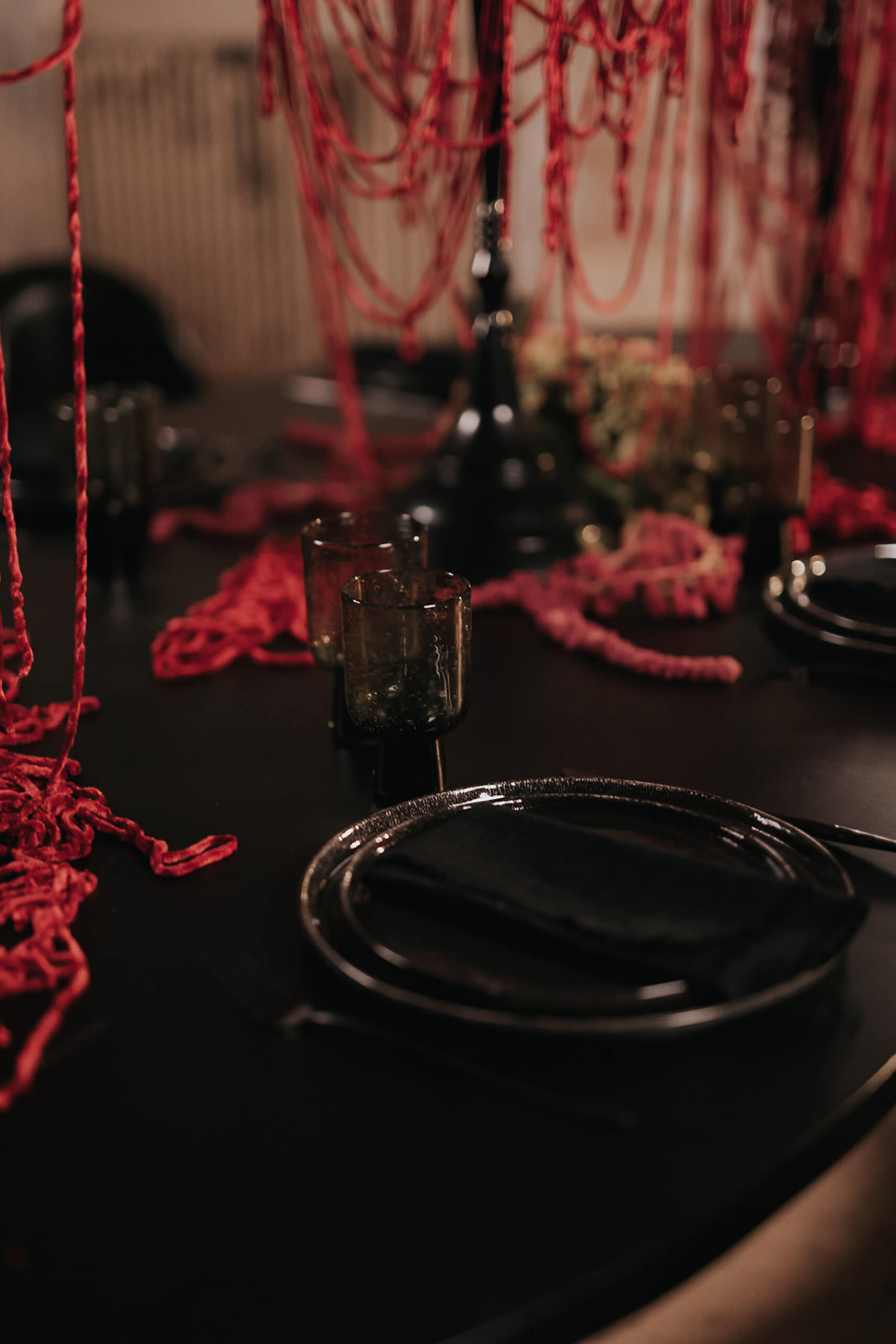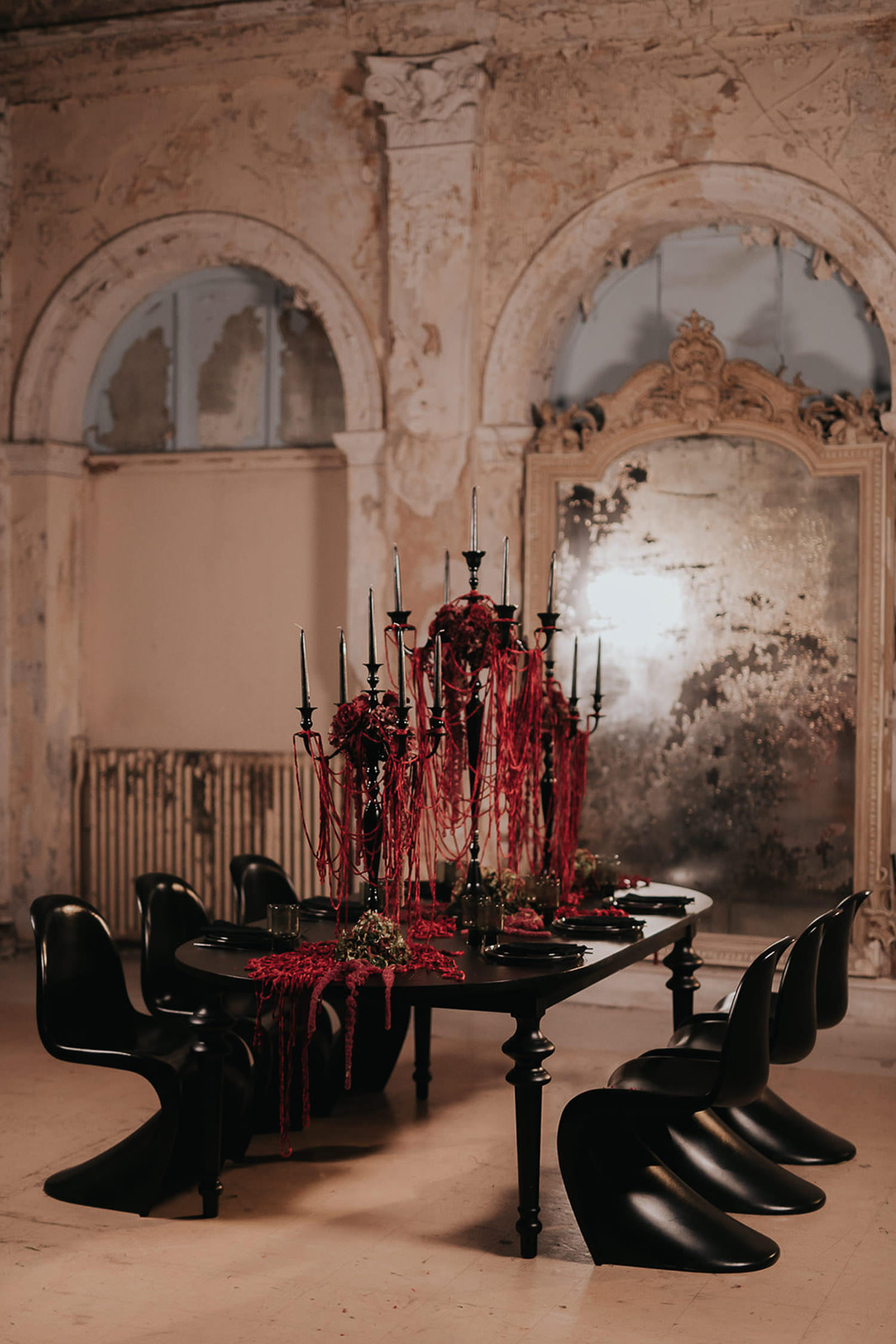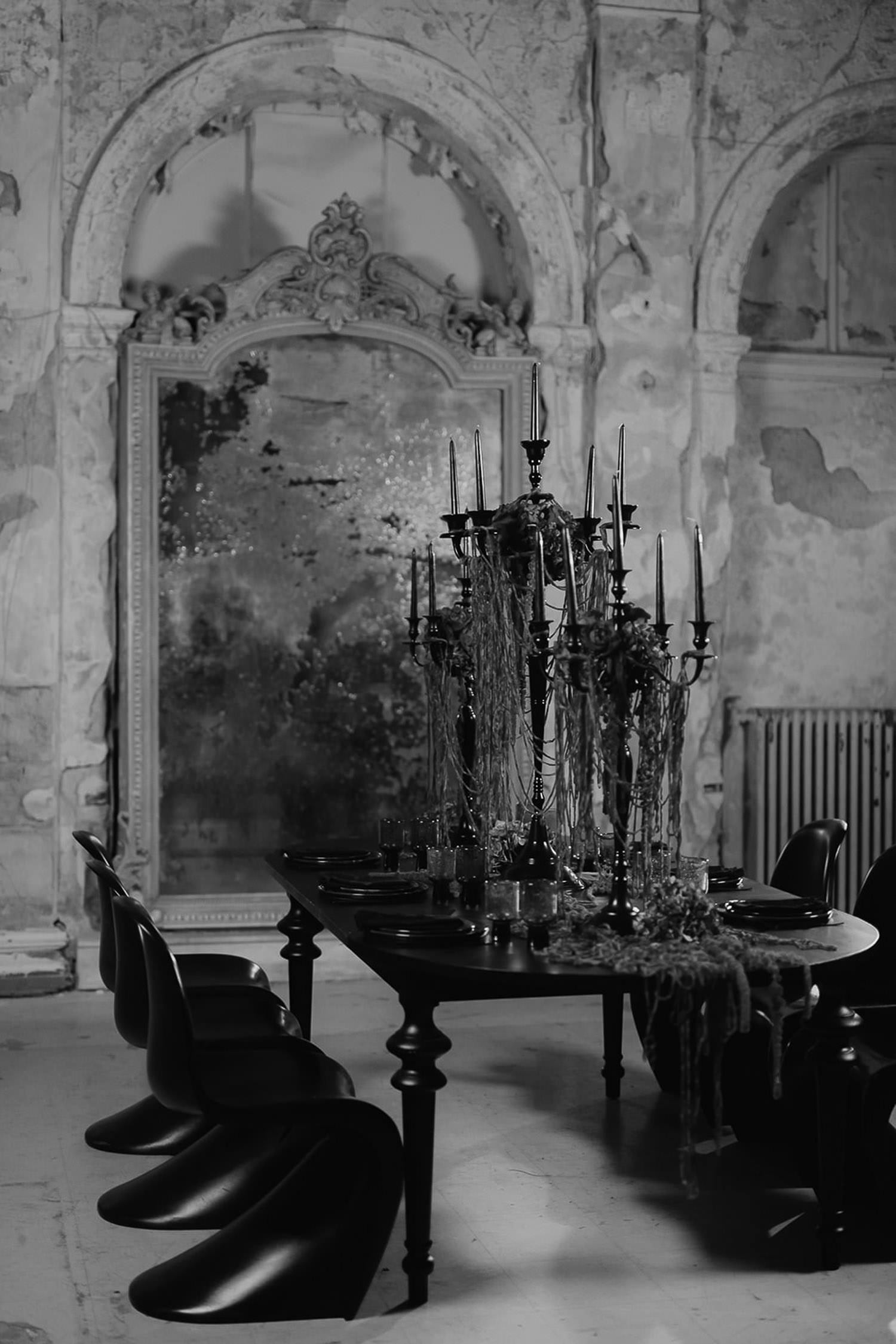 If you want a space where you can really let your imagination run wild, opt for an 'abandoned space' location where you can truly make it your own. A poetic setting infused in timeless elegance and old-world romance – our latest styled shoot hailing from within the timeworn walls of the four-storied Hotel Bageion which was constructed in 1890 – 1894 in the center of Athens, which now has a moody, alluring and poetic atmosphere that was the perfect backdrop for our shoot. It's antique, aged walls are its main focus, where you can style it for an artistic and ostentatious wedding day.
Romanced by timeworn facades and weather-beaten patinas, we're dreaming of far-off journeys spent uncovering forgotten spaces with moss-covered walls and fields spilling with wildflowers. antique buildings with old-world charm. It maintains its original features, such as huge windows that let floods of light in.
Here, you can let the beauty of the setting remain the focal point of your Christmas wedding, elegantly complemented with modern décor, for instance layering your tables with raw linens and imperfectly shaped ceramics. There is something so stylish about the contrast of a dilapidated space teamed with chic and luxurious details.
From crystal cut glassware against the backdrop of gilded candelabra and decadent scents amongst a derelict building.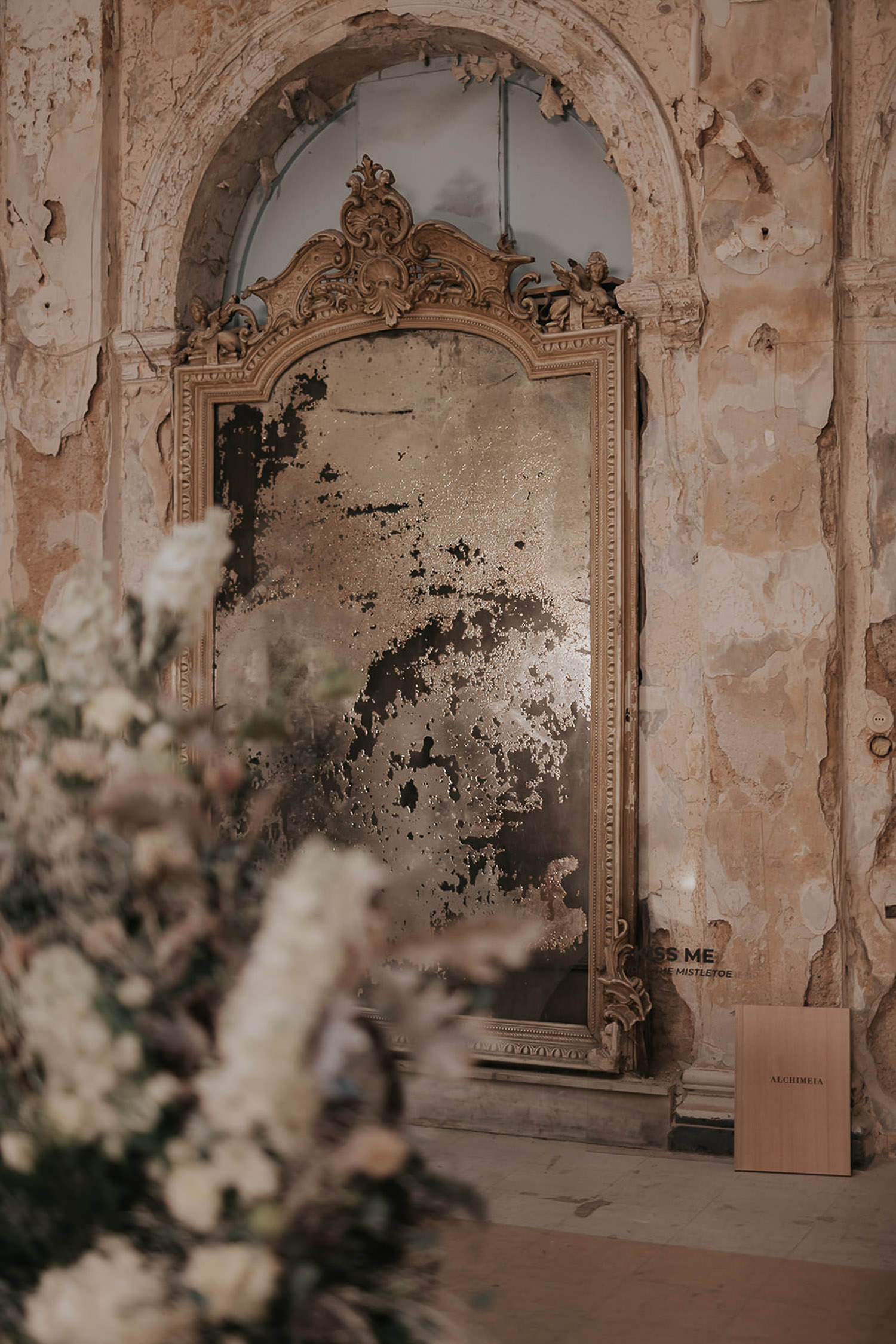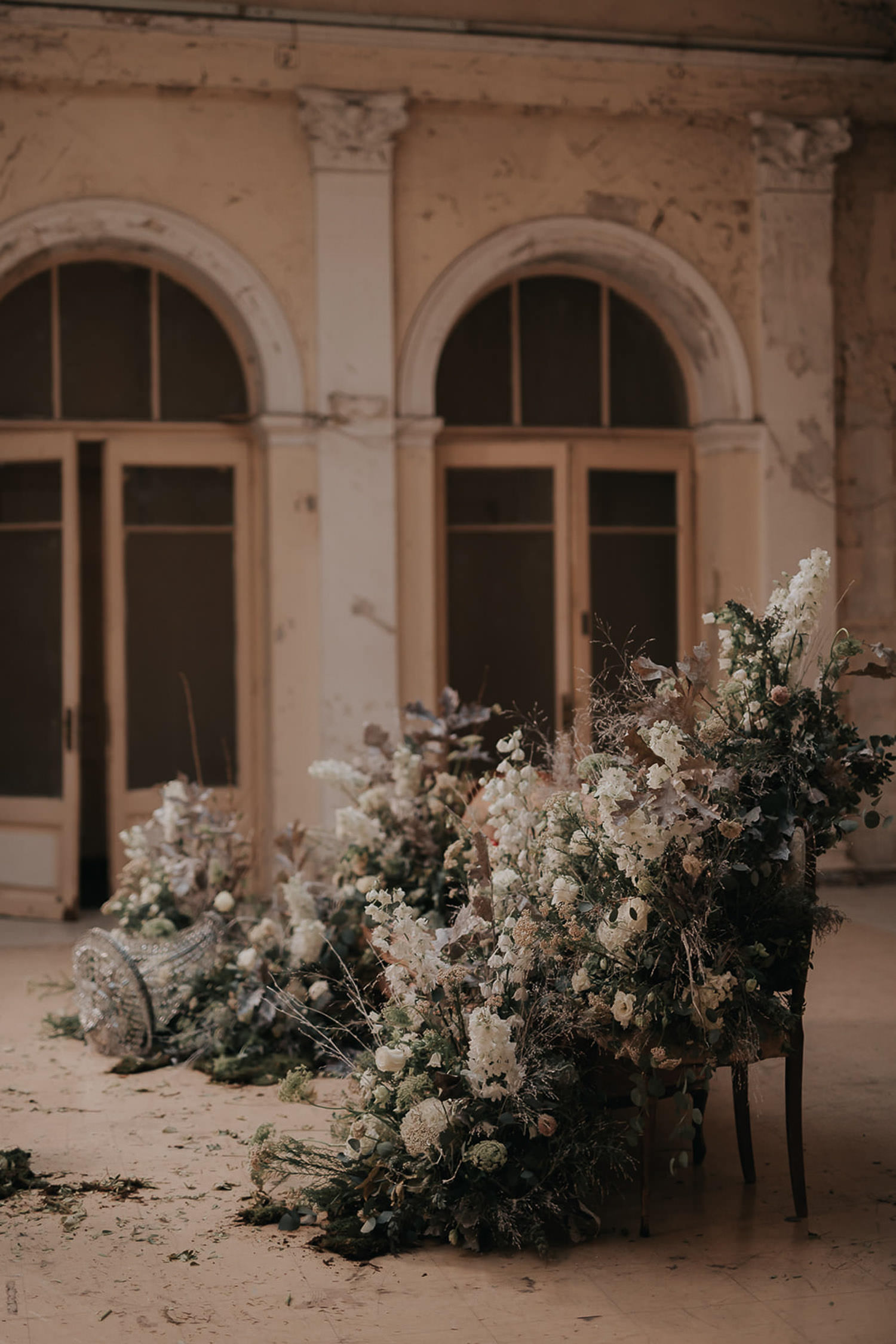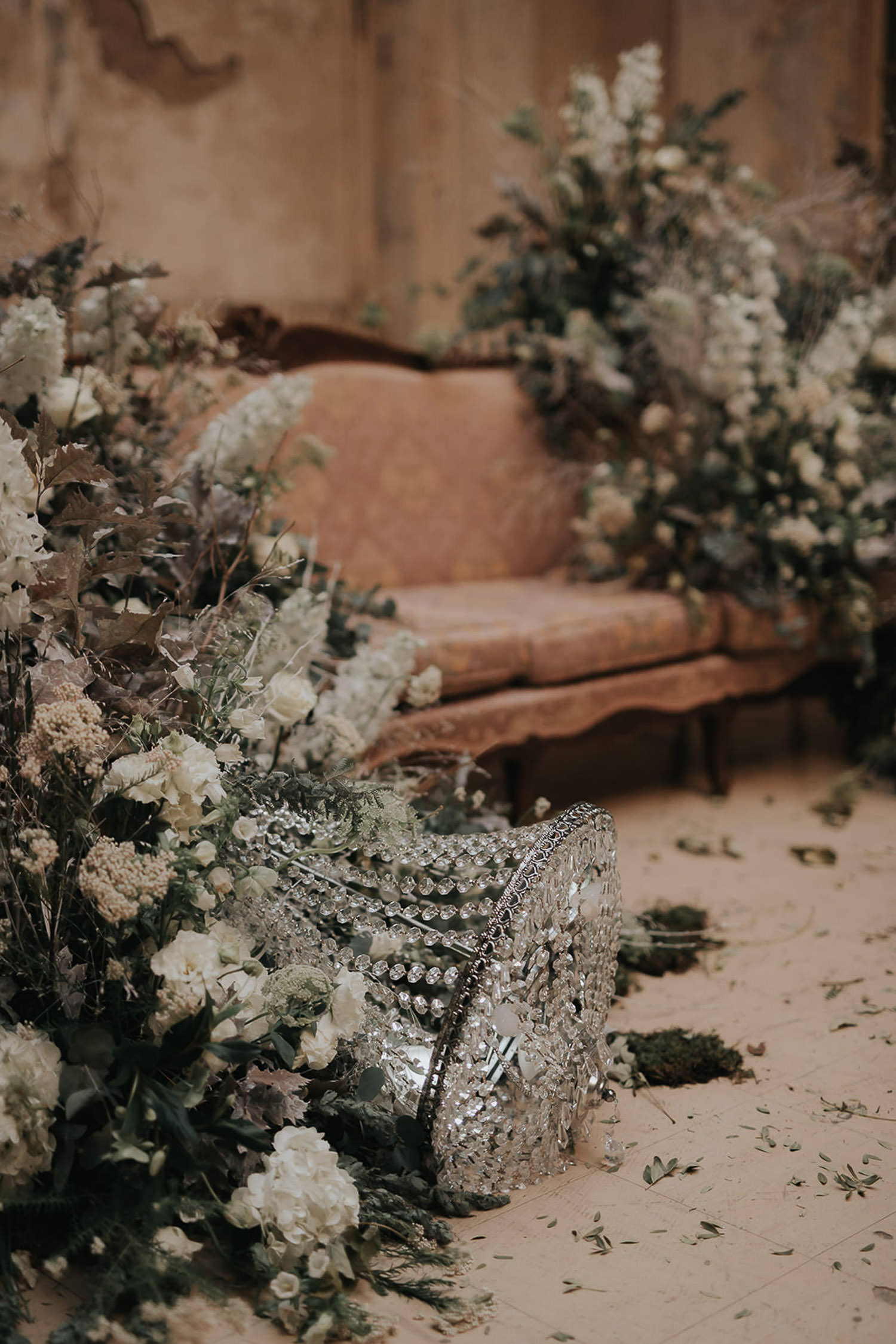 Add warmth to the space with ambient lighting (and the perfect nod towards Christmas), in the corners of a room and throughout your guest tables. This is your chance to draw from the venue's timeworn surfaces and create a jaw-droppingly beautiful celebration! As part of our Christmas wedding styled shoot, we creating the lighting using studio and cinema lights to showcase that it does not have to feel traditionally 'festive'. As our editorial is made for the Christmas queen, we wanted a backstage fashion-shoot vibe that still works during the winter.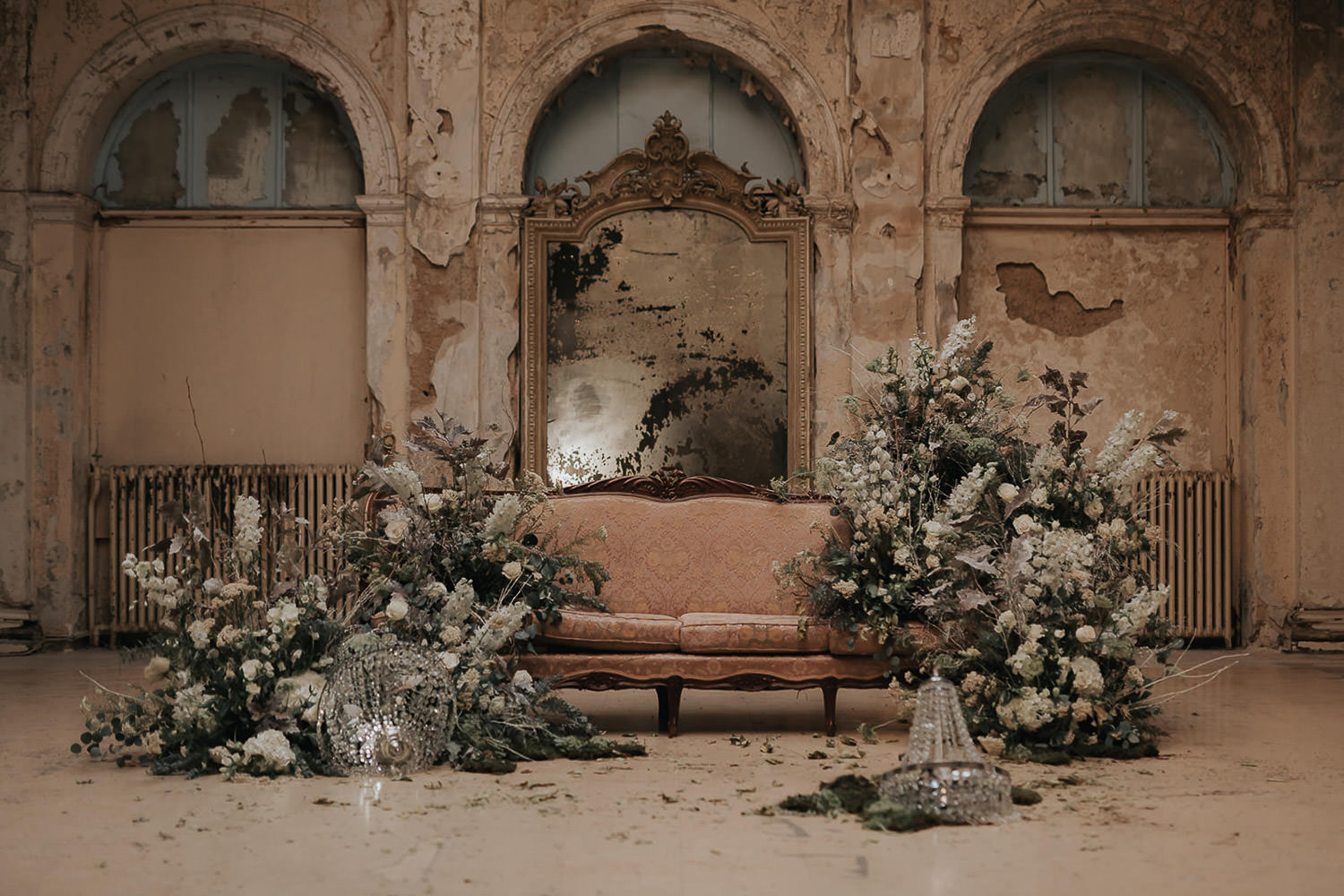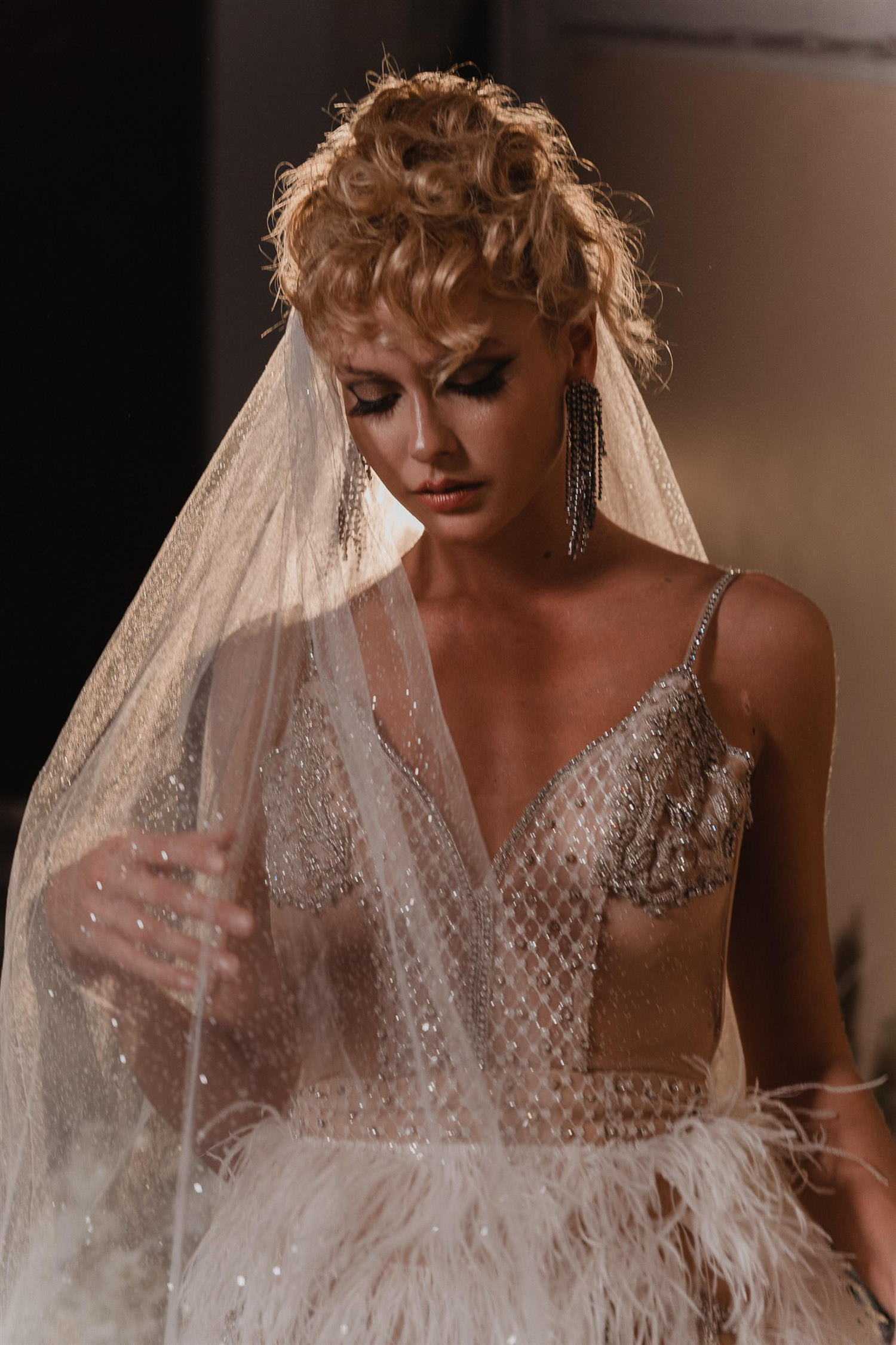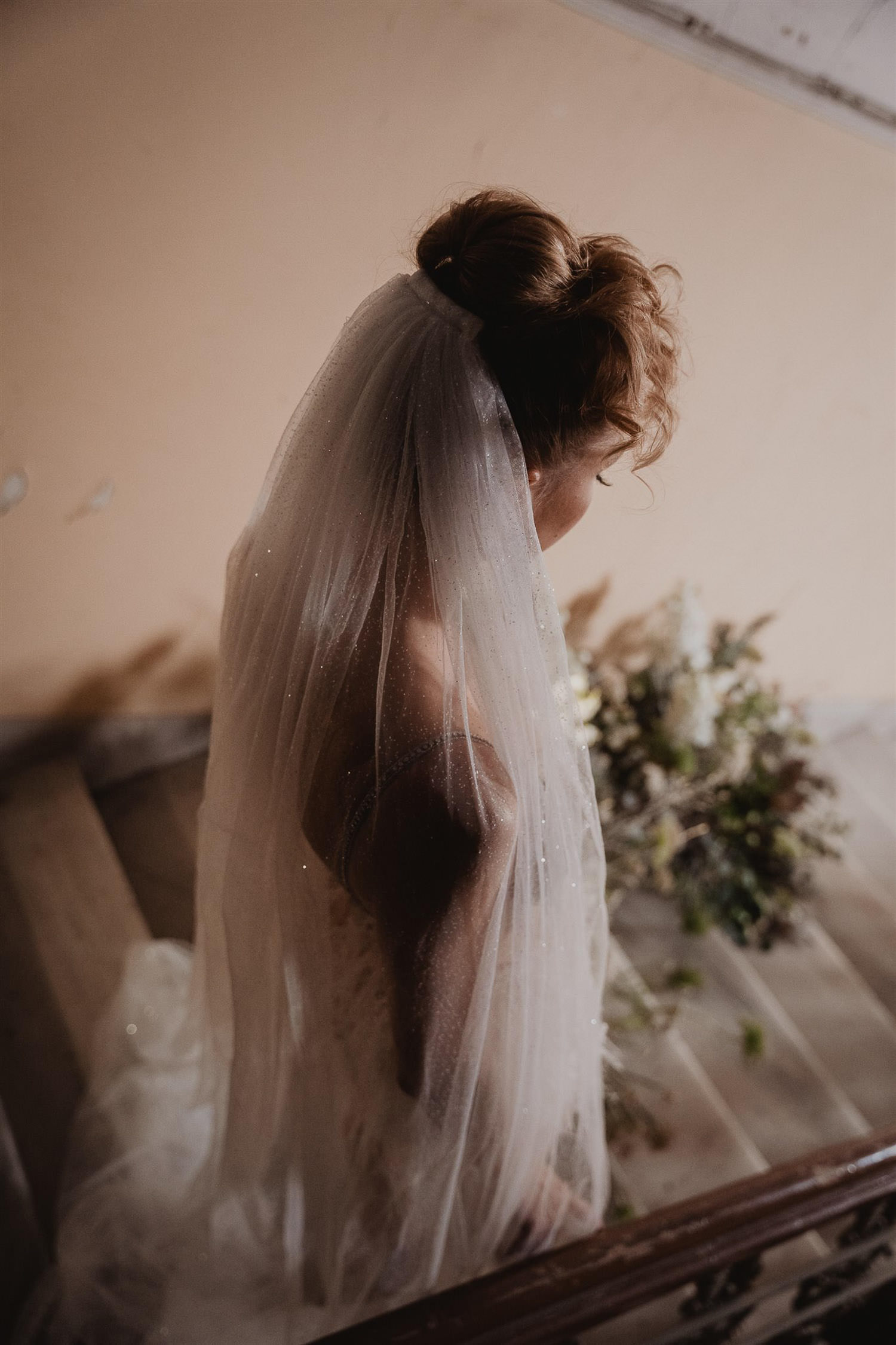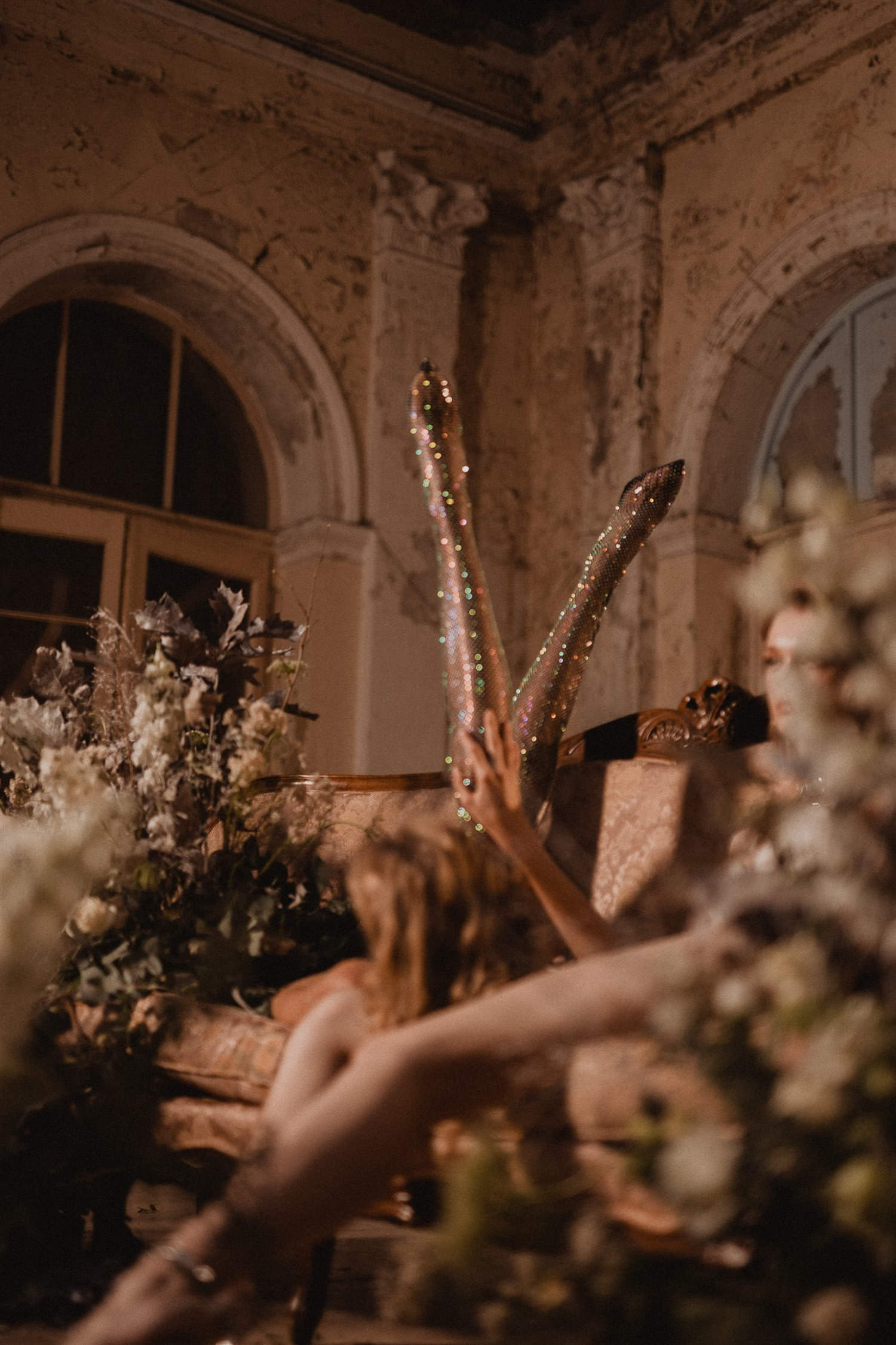 Your Christmas wedding is your chance to steal the spotlight so make your aisle your catwalk.
Laden the floor with endless luxurious and lavish florals, along with antique-esque chandeliers that have been worked into your floral design and lay abandoned on the floor for a poetic and dreamy set-up.
Your guests will be in awe of your aisle while you're guaranteed to turn heads with every step you take – it's cool, it's messy but it's always glamorous!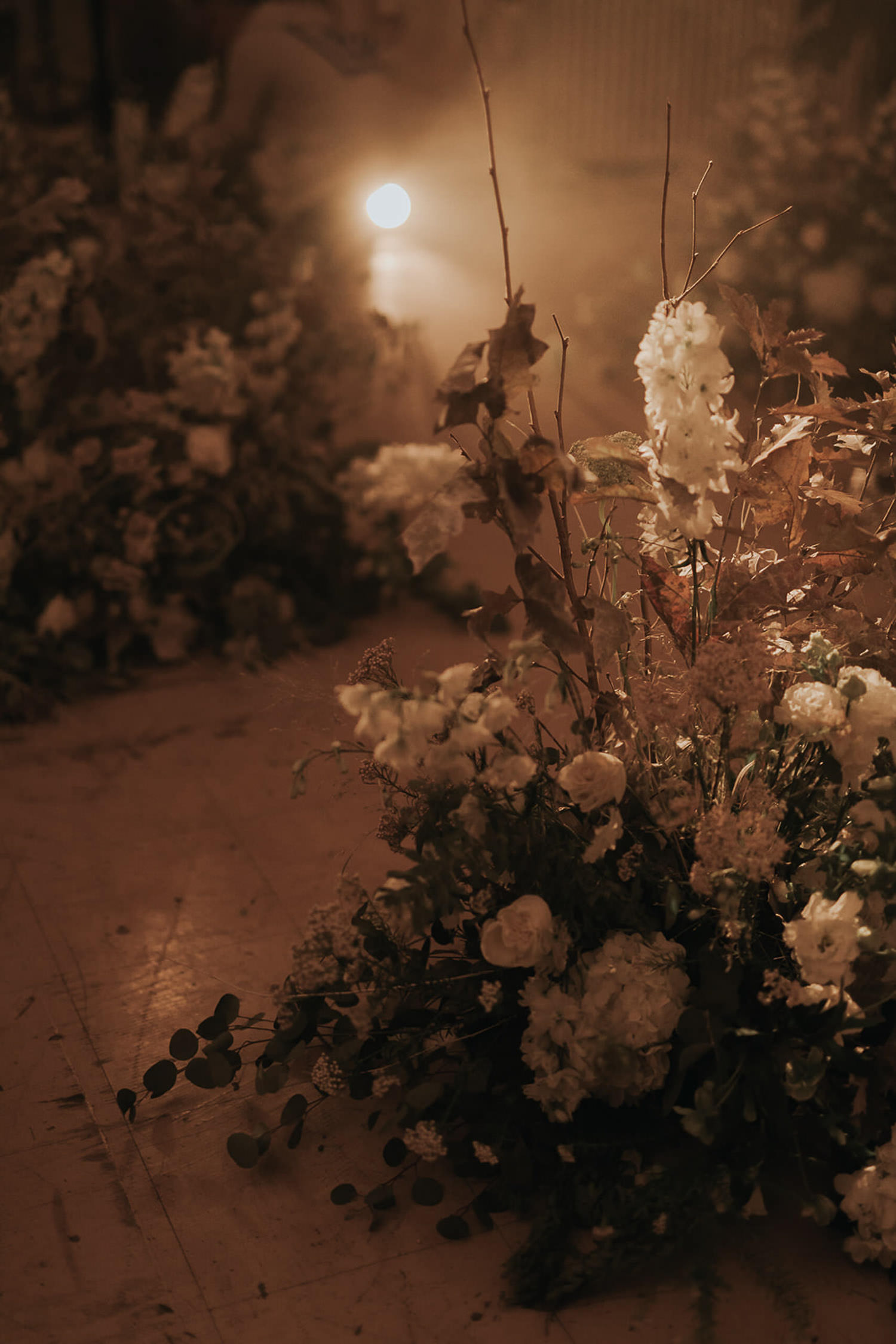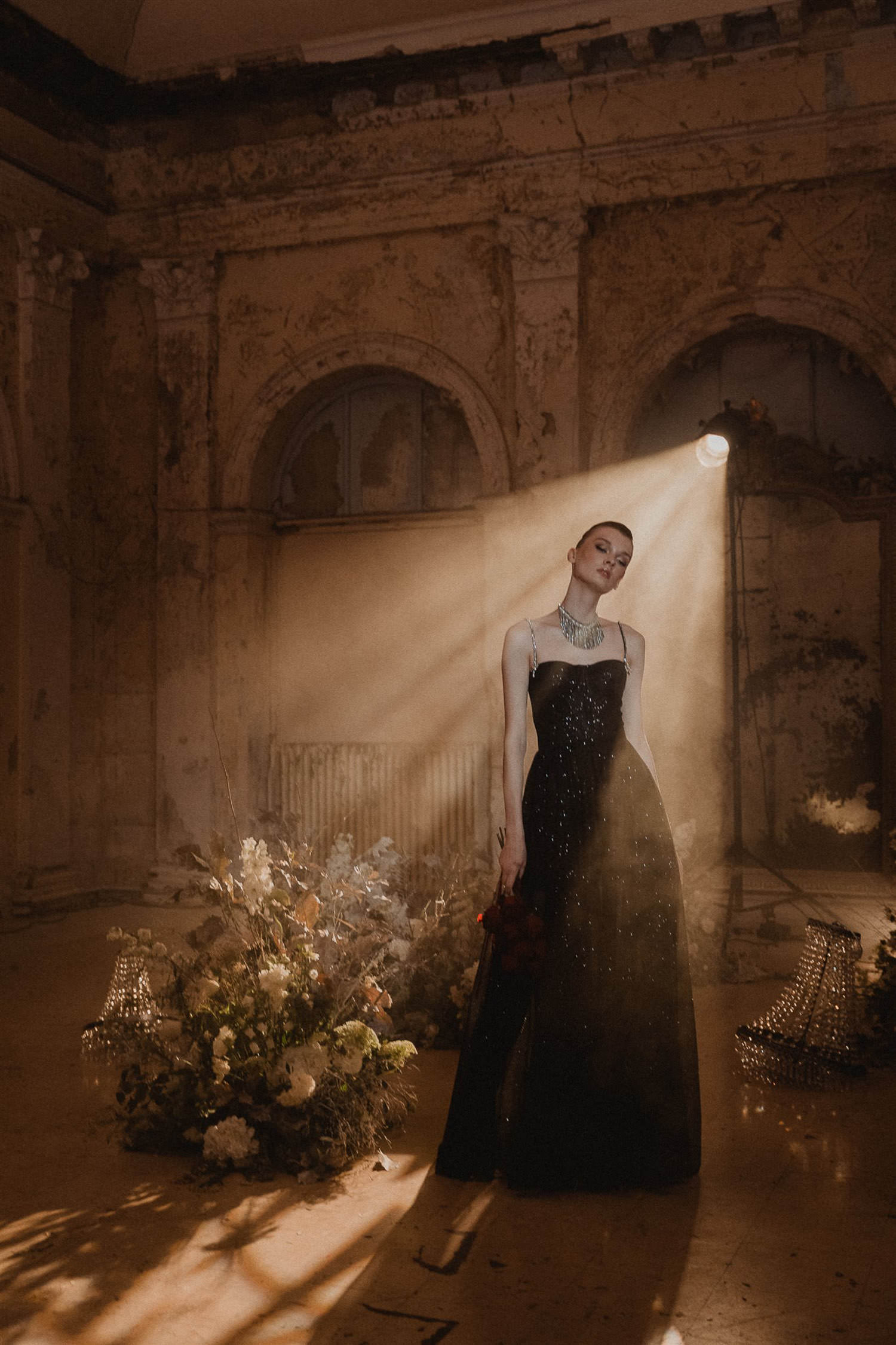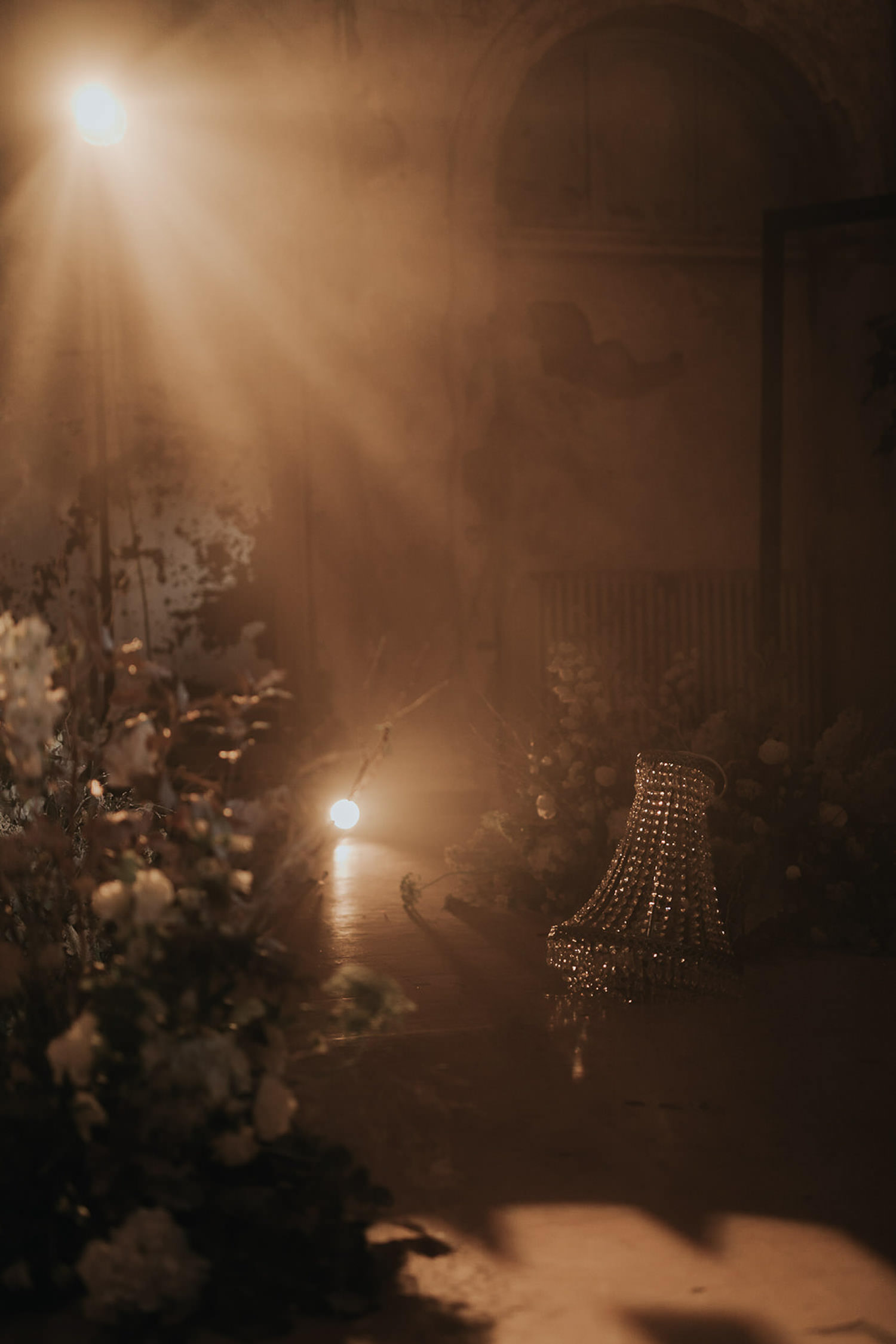 Add an extra dash of seduction to your Christmas wedding aisle style with a 'something borrowed' luxury garter. We created his garter with glittering embellished tape and a heart that has a secret love message on that is only designed for your husband's eyes...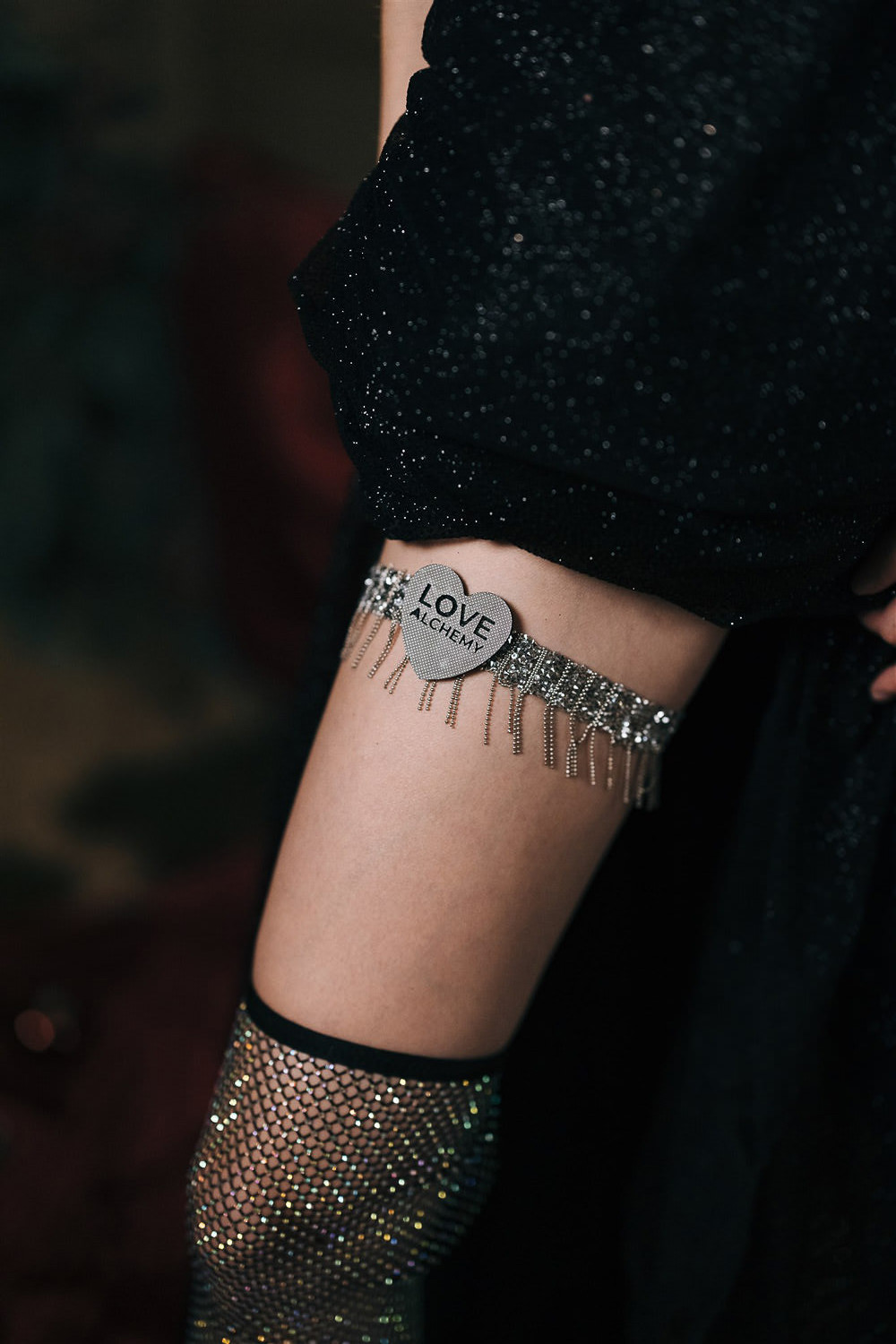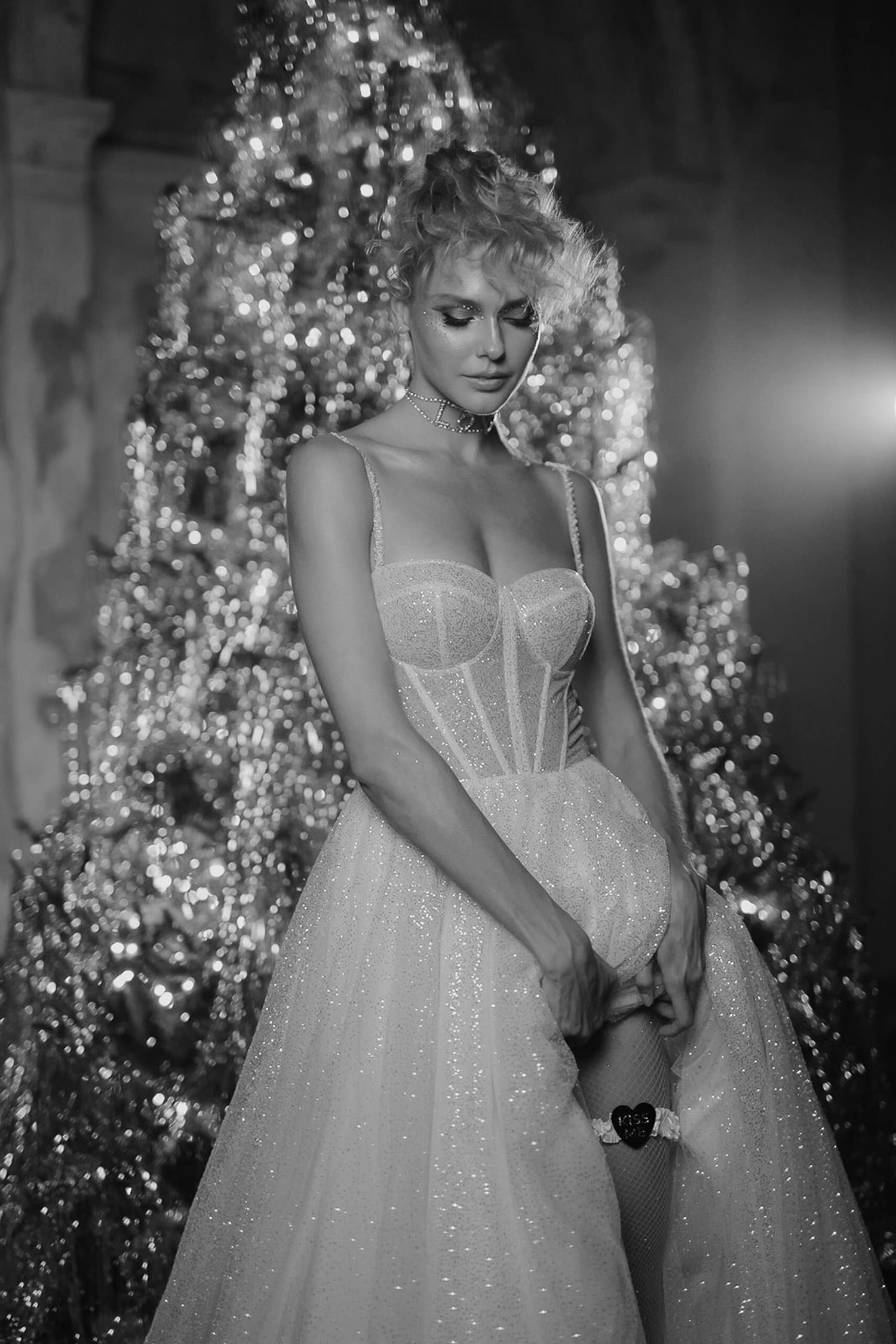 While you're all glammed up and looking utterly gorgeous, make sure everyone knows you are the spotlight and have a shoot in front of a white canvas. Dance, pose and channel those seductive vixen eyes so you can create a reel or video that is worthy for Instagram. We'll guide you and offer you direction, while you can showcase your confidence and glamour while enjoying the lighting and shadows. This Christmas wedding is all about you...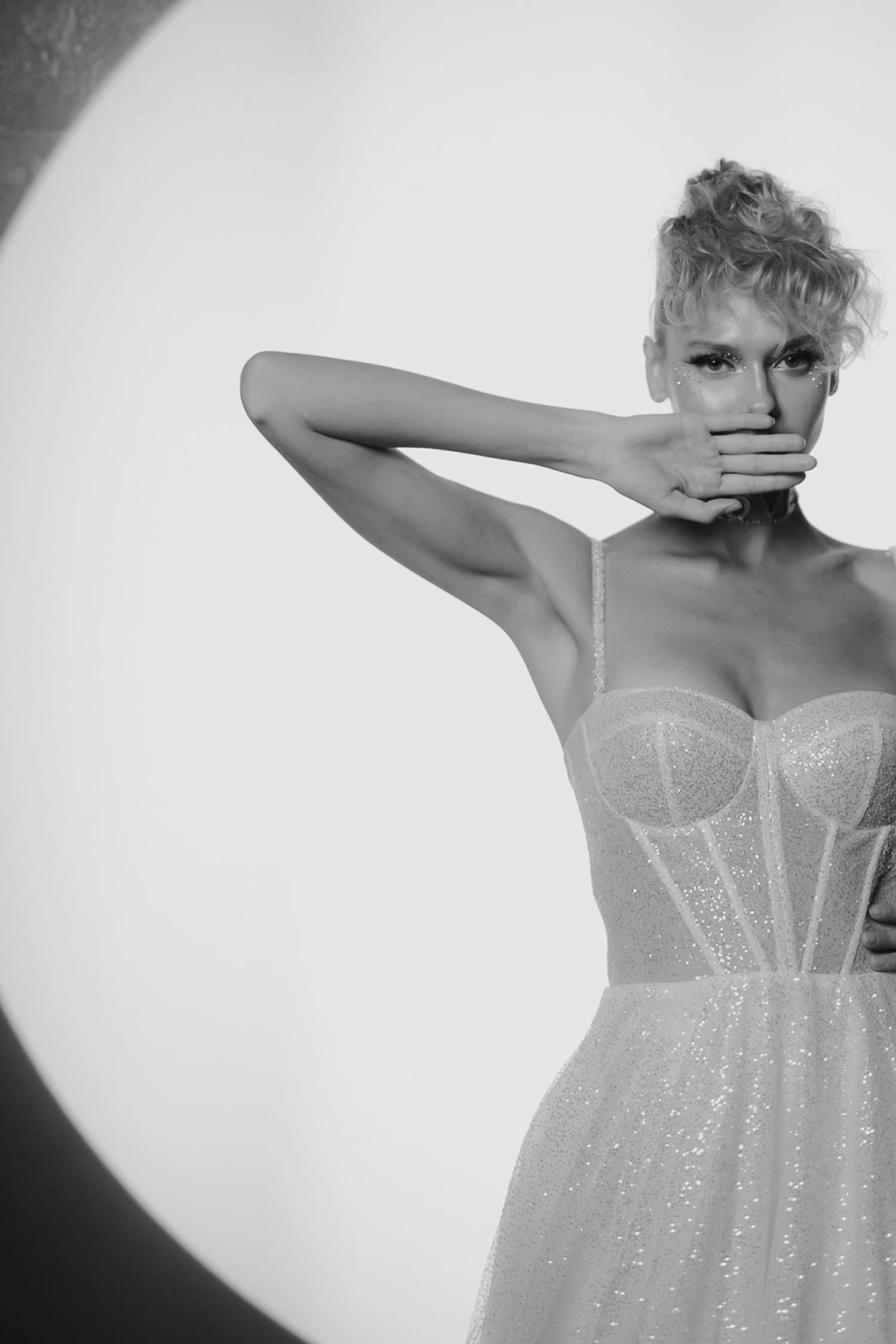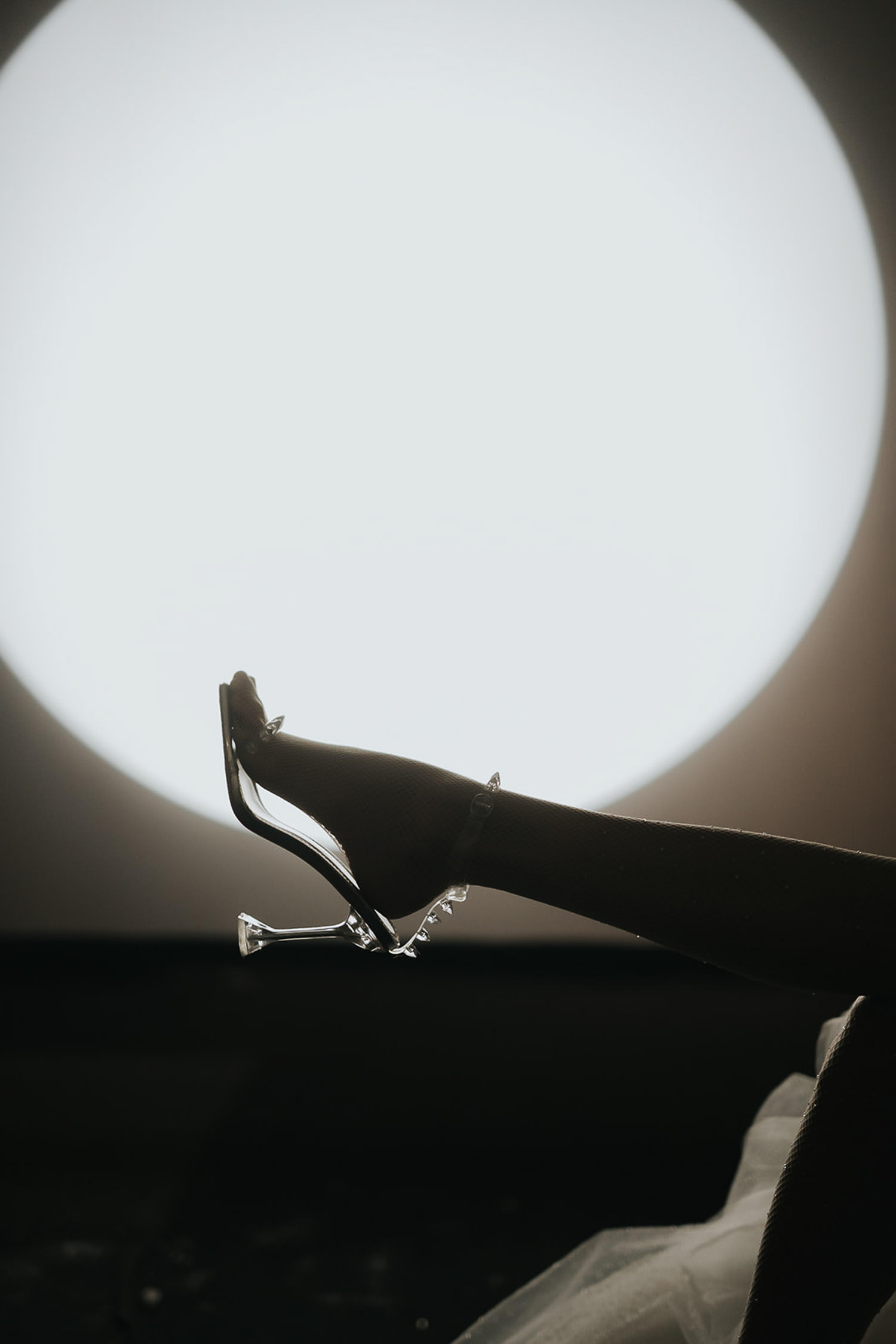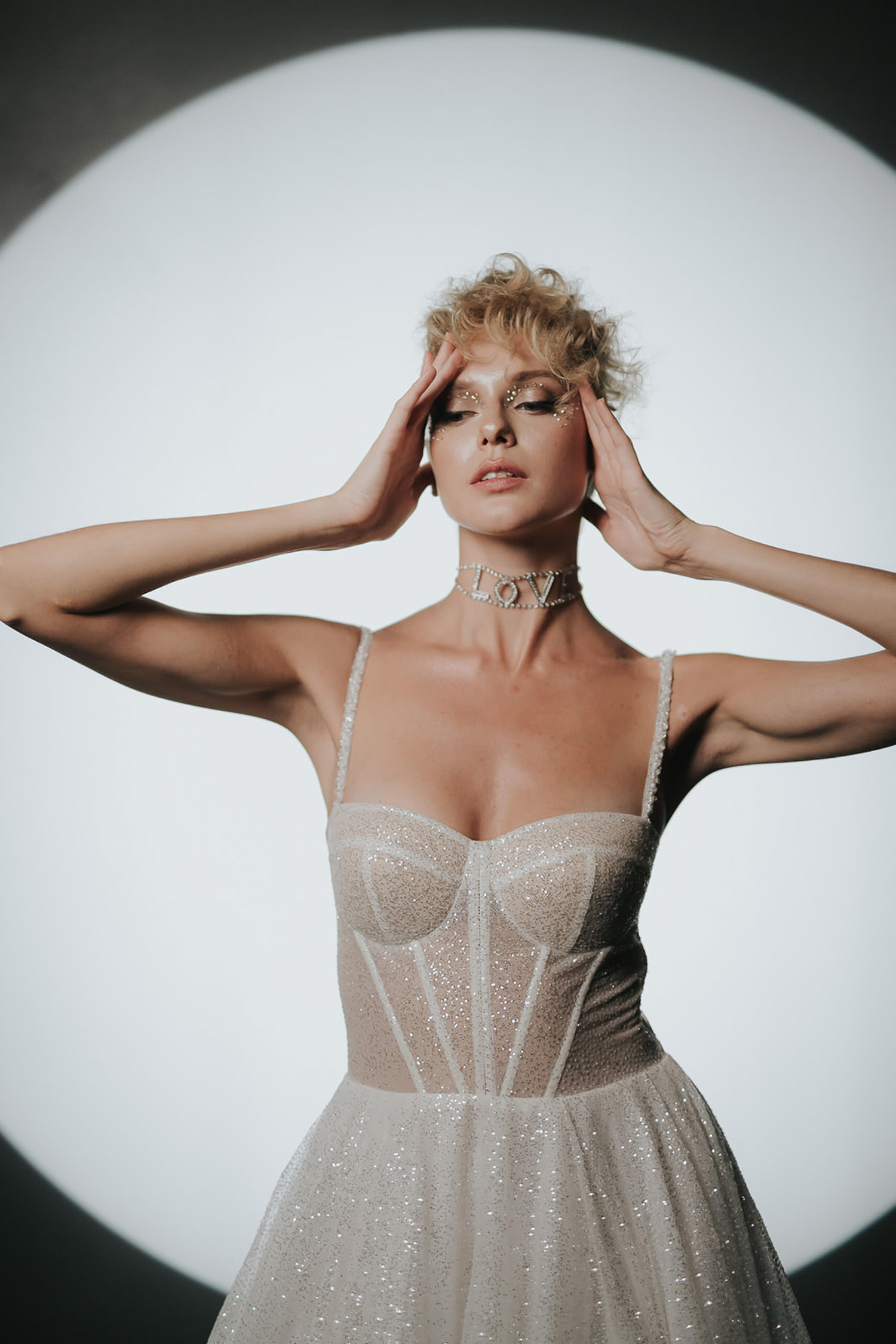 If you have fallen head over heels with the festive season and you're looking to host a Christmas wedding, get in touch with Kiss from Fleur to find out more about our luxury wedding planning and design services. Don't forget to book in a seasonal boudoir shoot to surprise your husband with for Christmas!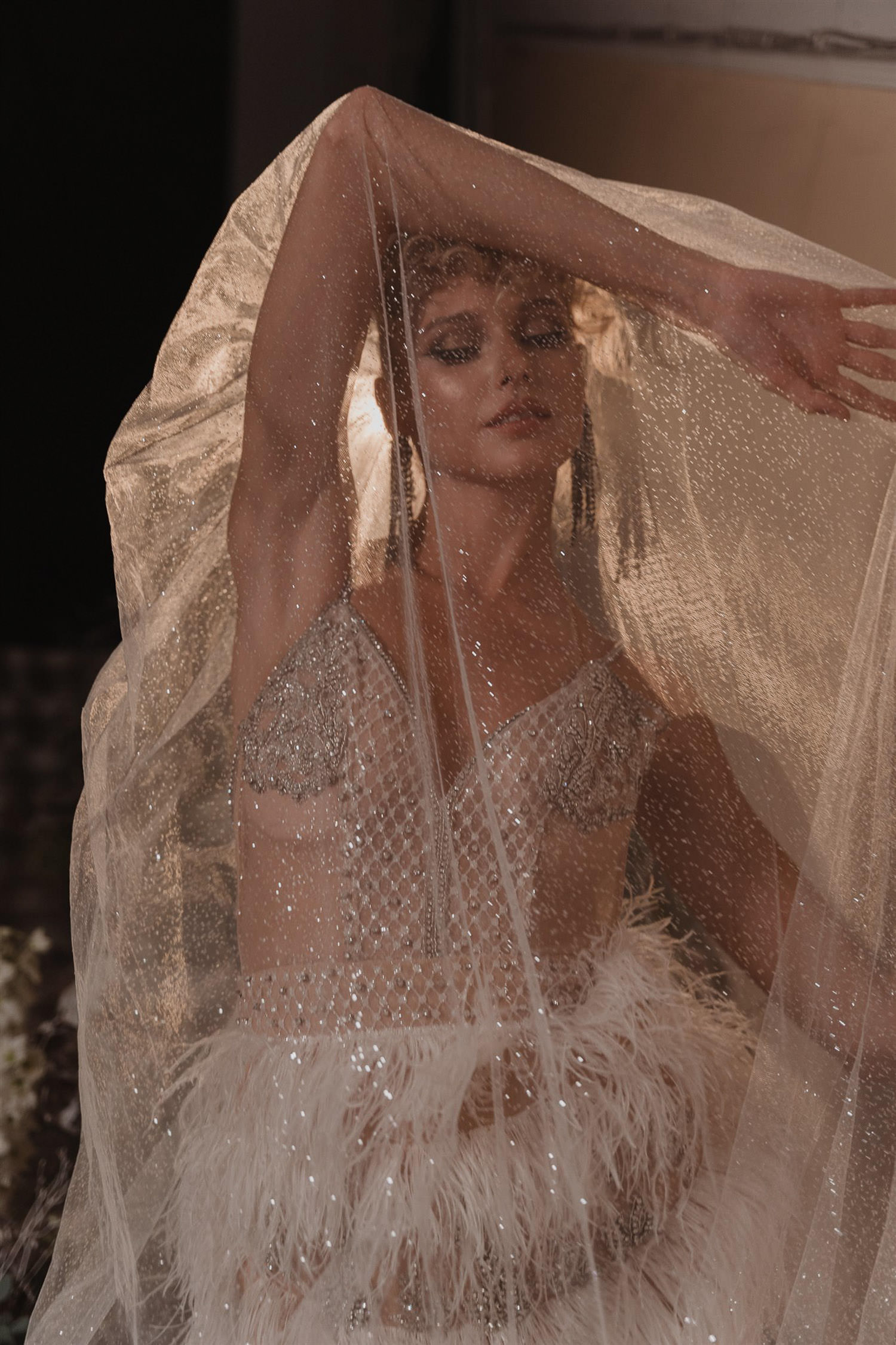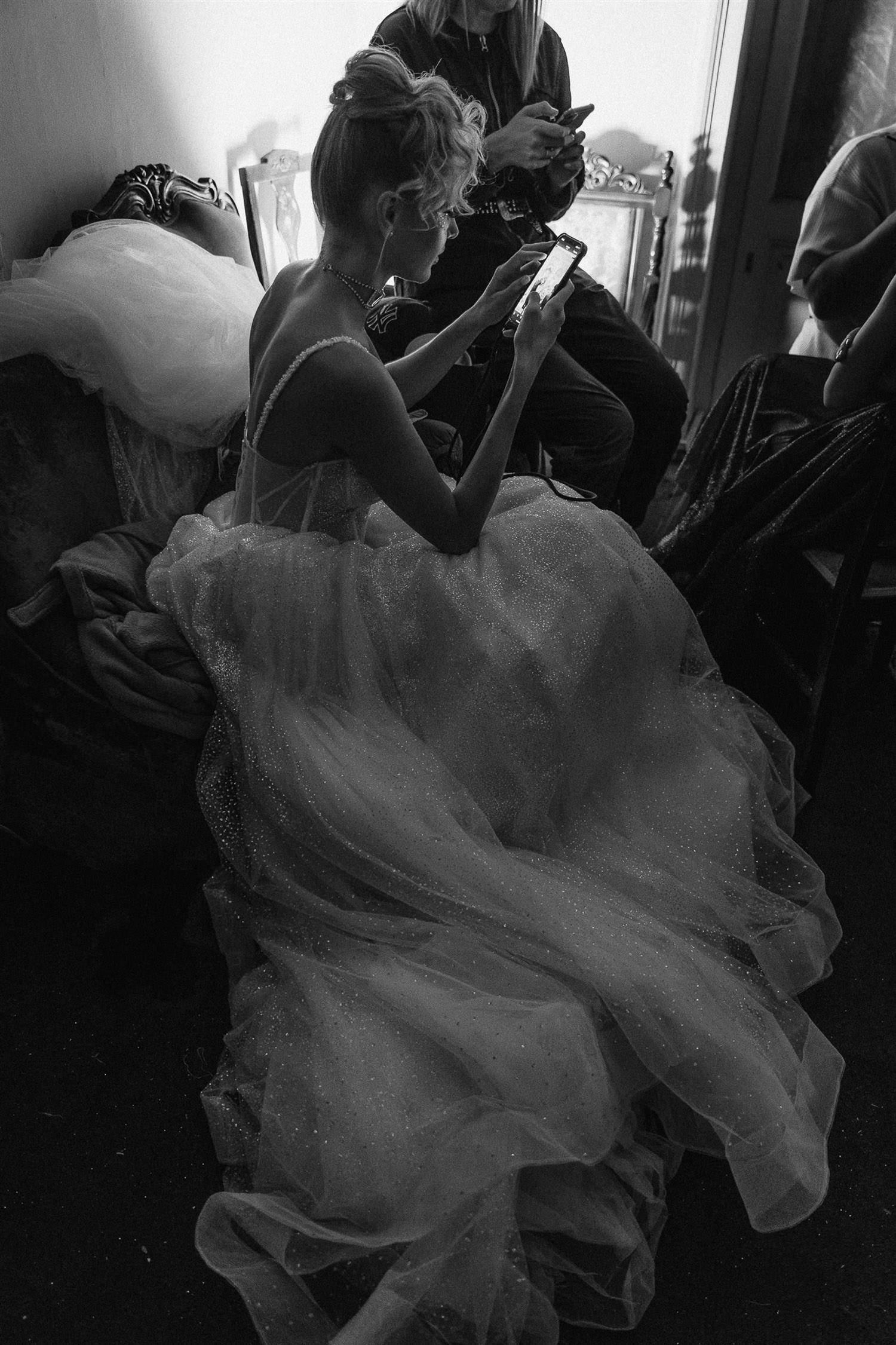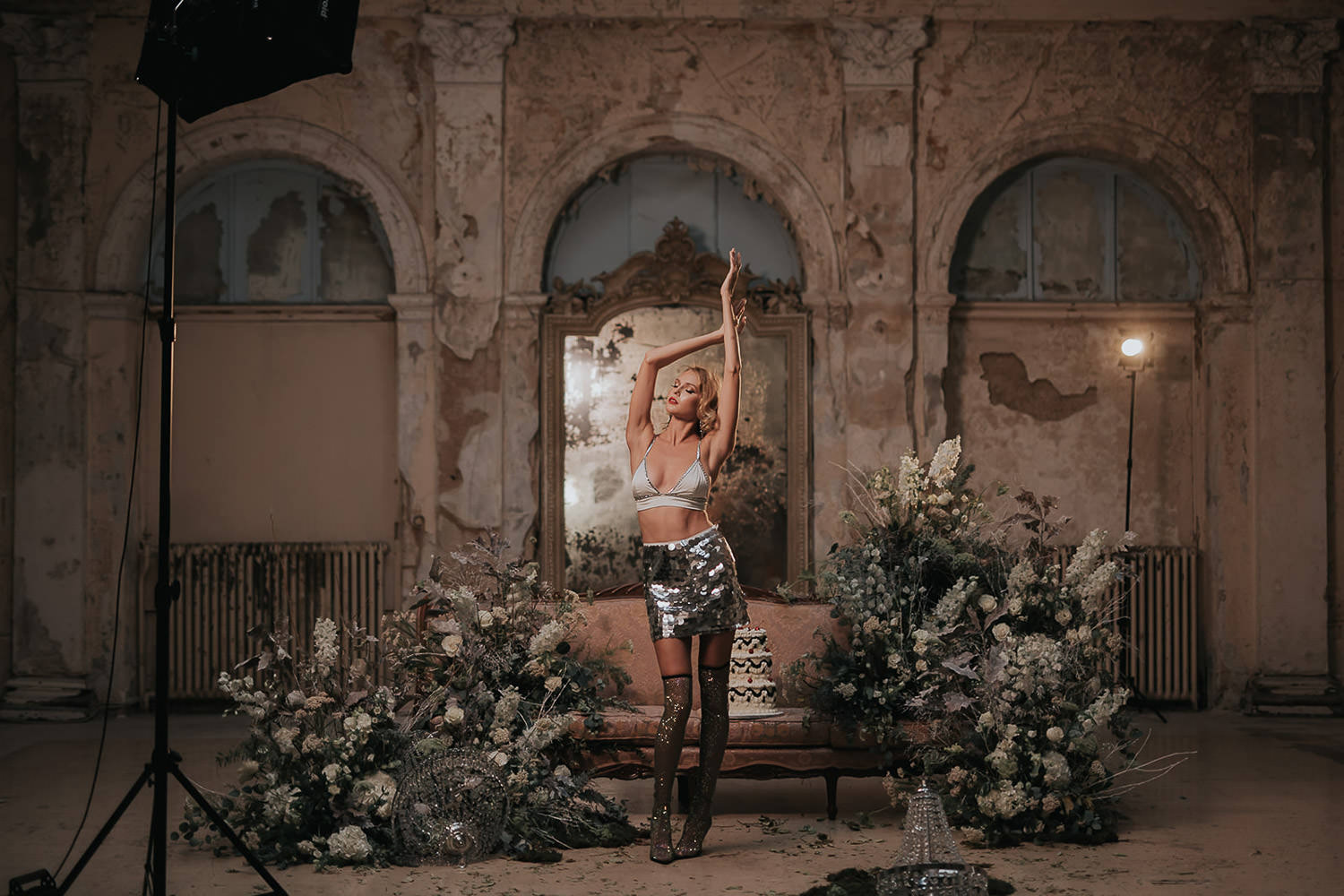 LOCATION
Athens, Greece
VENDORS
Photography Wedding Workshop
Alchimeia
Planning and Design
Kiss from Fleur
Media and Coordination
Ellwed
Photography Mentor
Vangelis Photography
Photography in Article
Fotis Sid
Floral Decor
Fiorentino
Lighting and Visual Effects
Panos Tsilounis Eventsmusic
Dresses
Primalicia
Tableware
Rakor Home
Rentals and Props
Tore Event Furniture Rentals & Props
Balloons
The Balloon Idea
Wedding Cake and Pastries
Maria Kogia
FEATURED ON